Alexandra Bracken - Passenger
Published
: January 5, 2016 by Disney-Hyperion
Pages
: 486
Genres
: Contemporary, Fantasy, Science Fiction, Young Adult
Find on
:
Amazon
,
Goodreads
,
Book Depository
Rating
: 2/5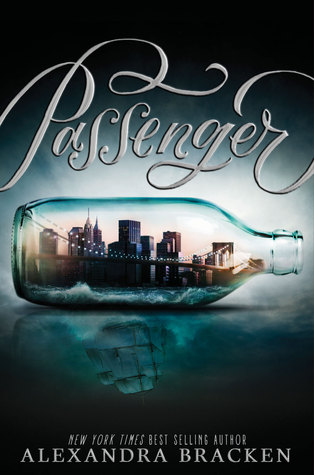 passage, n.
i. A brief section of music composed of a series of notes and flourishes.
ii. A journey by water; a voyage.
iii. The transition from one place to another, across space and time.

In one devastating night, violin prodigy Etta Spencer loses everything she knows and loves. Thrust into an unfamiliar world by a stranger with a dangerous agenda, Etta is certain of only one thing: she has traveled not just miles but years from home. And she's inherited a legacy she knows nothing about from a family whose existence she's never heard of. Until now.

Nicholas Carter is content with his life at sea, free from the Ironwoods—a powerful family in the colonies—and the servitude he's known at their hands. But with the arrival of an unusual passenger on his ship comes the insistent pull of the past that he can't escape and the family that won't let him go so easily. Now the Ironwoods are searching for a stolen object of untold value, one they believe only Etta, Nicholas' passenger, can find. In order to protect her, he must ensure she brings it back to them— whether she wants to or not.

Together, Etta and Nicholas embark on a perilous journey across centuries and continents, piecing together clues left behind by the traveler who will do anything to keep the object out of the Ironwoods' grasp. But as they get closer to the truth of their search, and the deadly game the Ironwoods are play­ing, treacherous forces threaten to sep­arate Etta not only from Nicholas but from her path home . . . forever.
~
WARNING
:
Beware the spoilers. They may be deemed potentially uncool.
Confession: I brought this for the hype.

I saw reviews ranging from "asdfghjkl Passenger" to "hmm, Passenger is a delight, but it COULD be better" I just KNEW I had to have it, so I did. That makes me sound so obnoxious. Believe me, I'm not. I just so happened to have a gift card.

Henrietta "Etta" Spencer, a pretty blonde violinist, is awaiting her big break. As she practices multiple hours per day, shunning any idea of a social life, she assumes a career in music is in the cards, so when she's finally allowed onstage for a grand solo performance, she freezes, ruining her chance after claiming to hear something crash in the crowd. But when a girl named Sophia claims to hear it as well, she drags them off and, before Etta knows it, they've been transported to 1776 and are placed nicely on a pirate ship.

Yeah, so I really didn't understand this novel. At all. I've sort-of kind of not really been getting into the whole time travel schtick.
The crew is a delight. I was infatuated with Nicholas from the start, but he became clingy. (We'll get to it.) Jack and The Captain are adorable, too. I wish we were able to see more of them. Platoons of characters were just brushed by.
I really do Nicholas and I feel the need to say that again because Etta was as interesting as drywall. Nicholas was so warm. He was so caring, and he followed Etta around so willingly and without question. He seemed to really care about his brother, too. Something that annoyed me. Everyone was blaming him for his brother's death and Etta, who thinks she's so feminist and cool, defends Nicholas religiously. But when people blamed Nicholas for his brother's death, she just sat there, all quiet. Why aren't you popping off, Etta??? And why aren't
you
manning up, Nick???)
This reminds me of
Reign of Shadows
. There was honestly no
point
in their journey. It was romance through time-travel. Each chapter, they were somewhere else. It reminds me of that Calvin Harris song, "How Deep Is Your Love." Ever see the music video? Gigi Hadid touches her hair and teleports from yachts to underground clubs to pool parties. Sensational, and more interesting than this book, honestly.
Also, Etta was such a little attention-seeker and Nicholas was always all over her for it: "Does your leg hurt? Do you need water? Do you need me to carry you?" And Etta would buy into his bullshit and be collapsing all on him. Like, STOP IT.
And they were already talking about marriage. How old are y'all again?
Alexandra Bracken writes gorgeously, but this book is unnecessarily long, and I knew I had a problem when the cliffhanger didn't even affect me. Definitely a pass.