Kate Evangelista - No Love Allowed
Expected publication
: April 19, 2016 by Swoon Reads
Genres
: Contemporary, Young Adult
Pages
: 256
Find on
:
Amazon
,
Book Depository
,
Goodreads
Rating
: 1.5/5
It's all fun and parties until someone falls in love in this modern fairy tale from author Kate Evangelista.

Caleb desperately needs a fake girlfriend. Either he attends a series of parties for his father's law firm with a pretty girl on his arm, or he gets shipped off to Yale to start a future he's not ready for and isn't sure he wants. And sadly, the last unattached girl in his social circle has just made the grievous mistake of falling in love with him. Fortunately, Didi, recently fired waitress and aspiring painter, is open to new experiences. As the summer ticks by in a whirl of lavish parties, there's only one rule: They must not fall in love!
~
Fact: If you melt this book in the microwave, there's a 100% chance you'll have enough cheese to cover your nachos.
Caleb is a snobby, rich playboy with
a secret heart of gold
. He dates and dumps girls like Kleenex. After one of his conquests grows an attachment to him, he dumps her in the middle of a restaurant and she runs off, screaming and crying. The waitress, Didi, happens to witness this traumatic encounter and drops her tray. Caleb reaches forward to help and they lock eyes and hands. Accidentally, of course. He only wants to comfort her. Oh, God. Blue eyes. Is that a fleck of gold?
Then, Caleb decides to drive to the Cliffside. Because, why not? The waitress has followed him. After a spontaneous cliff dive, he jumps in after her, assuming the worst, and the following conversation ensues.
"Do you kiss your mother with that mouth?"
"My mother's dead."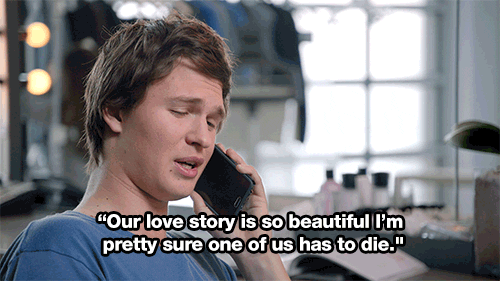 Didi is dirt-poor. Cinderella in bargain-bin ballet flats. As in, her mother works a few jobs and the power goes out daily
[ her mother works a few jobs and the power goes out on the daily (hide spoiler)]
, so when
Moneybags
Caleb offers her the opportunity to be his fake girlfriend for the summer, she's all: "k." She also happens to take medication for anxiety and insomnia, which I saw no problem with. My problem with Didi, she's
freakish.
She says things that are obviously not funny. She's a slutshamer. She's plain
wacky
and not in a good way. (Whose eyes roll back into their head while they're eating? That's so ugh.)
I've said in my review for
Every Last Word
and I'll say it again. Do not let your mental illness define you. I think Didi's
[ being bipolar (hide spoiler)]
was only meant as plot-twist because it was announced so late. She wasn't even taking medication for it.
Not that I was a total fan of Caleb either, but I found him slightly more tolerable than Didi. His reason for the whole fake girlfriend shindig is to avoid Yale. He also has the ability to jump on a plane and head to Europe if he so pleases. So with a "fake" girlfriend in tow, he's forced to attend garden parties and the like. Someone give the boy a trophy for his charity work.
There was no plot. I mean, what plot? Caleb's ex-girlfriend threatens to "expose" Didi for who she once was (i.e. a waitress) and is never seen again. Later, Caleb says the reason behind his playboy-ness is because his parents were in love and he'd never seen anything like it (?) This is basically a knockoff version of Gossip Girl. Nothing super special here.
~