Kat Ellis - Breaker
Published
: May 24, 2016 by Running Press Teen
Genres
: Thriller, Young Adult
Pages
: 304
Find on
:
Amazon
,
Book Depository
,
Goodreads
Rating
: 2/5
Kyle Henry has a new name, a new school, and a new life. A year has passed since his serial killer father's execution, and it finally looks like he has a chance to escape the stigma and fear that haunts him.

Until he recognizes the girl sitting in the back row in homeroom.

Naomi Steadman is immediately intrigued by Kyle, but she doesn't know he is the son of the man who murdered her mother. What she does know is she and Kyle have a connection—and a spark that Kyle continues to back away from.

Pretty soon, the death count on campus starts to rise. Someone is set on finishing what the Bonebreaker started, and reliving the horrors of their past may be the only thing that can stop the spree.

Told in alternating viewpoints, Kat Ellis's tale of mystery and horror is full of broken bonds and new beginnings.
~
I un-DNFed this, actually. Literally, a first of firsts. I placed this aside, rated it on GR, and decided to pick it up again because I felt bad.
Kyle Henry is the son of a serial killer, known notoriously as The Bonebreaker. After his father is sentenced to a life in prison, he and his family move out of town, Kyle changes his name and schools, and while at Killdeer Academy, Kyle runs into a girl well-known to his family, Naomi Steadman. Prior to the current plotline, Naomi's mother had been murdered by Kyle's father and she witnessed it happen.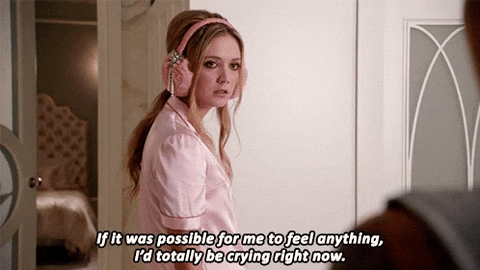 Naomi and Kyle have a chance meeting outside of class after Kyle saves her from a rabid squirrel. (Not kidding.) Naomi has no idea who he is, but Kyle knows her, which isn't at all creepy. Though I believe their classmates know who Kyle's father is because they start calling Kyle "Breaker," which upsets him. Naomi, being the dumbass she is, doesn't pick up on it.
Kyle comes from a long line of crazy. Not judging. We don't pick our family. His mother has suffered a traumatic brain injury. Uncle Coby "Crazy Jake" occasionally takes him to a bar.
Also: Kyle calls his parents "Mama" and "Daddy" often, which annoys the living shit out of me.
[ His father died in jail, so they're never visually seen together. (hide spoiler)]
I've always called my parents "Mom" and "Dad" - well, except when I was small child, obviously - and I think when you reach a certain age, you should automatically adapt to not doing that.
I almost felt bad for Kyle, but not really? If you went to school with one of your father's victims, leave them alone. Naomi wasn't exactly avoiding his advances and they soon drive themselves into instalove territory. Their romance/relationship/whatever didn't appeal to me. Even after the many interferences from his psychotic fam. Take the midnight train elsewhere, hon.
It's not a totally bad read, but I half-predicted the reveal. It's also somewhat draggy. To be honest, it's interesting, but not worth a reread.