Ashley Herring Blake - Suffer Love
Published
: May 3, 2016 by HMH Books for Young Readers
Genres
: Contemporary, Realistic Fiction, Young Adult
Pages
: 352
Find on
:
Amazon
,
Book Depository
,
Goodreads
Rating
: 2/5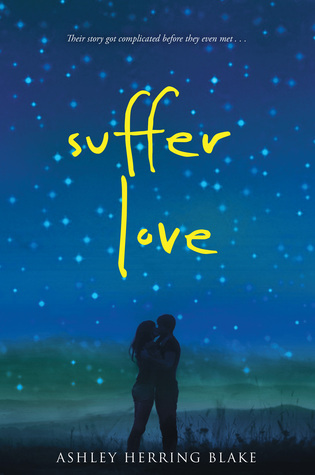 "Just let it go."

That's what everyone keeps telling Hadley St. Clair after she learns that her father cheated on her mother. But Hadley doesn't want to let it go. She wants to be angry and she wants everyone in her life—her dad most of all—to leave her alone.

Sam Bennett and his family have had their share of drama too. Still reeling from a move to a new town and his parents' recent divorce, Sam is hoping that he can coast through senior year and then move on to hassle-free, parent-free life in college. He isn't looking for a relationship…that is, until he sees Hadley for the first time.

Hadley and Sam's connection is undeniable, but Sam has a secret that could ruin everything. Should he follow his heart or tell the truth?
~
Tika of the megacool blog, Fangirl Confessions, and I attempted to buddy-read this. LOLOLOL. She DNFed it. It took me days to finish. Literally, I was tempted to DNF it myself. There really is no plot. Most of my GR friends had given it 4/5-stars, so I automatically expected to love it, too. Yeah, so.

Hadley St. Clair is new to town. After moving from Nashville, her family is left in shambles. Her father had cheated on her mother with a mystery woman, shattering the family. When Hadley accidentally gets caught with a classmate's boyfriend (lol not sure this is an accident, actually), the student body alienates her and she's viewed as the School Slut. The only person who doesn't see her as such is Sam Bennett.

Sam already has a link to Hadley, however. One he isn't too keen on sharing.[ Sam's mother had been the Other Woman. (hide spoiler)] Prior to their move, Hadley's door was covered in Post-It notes, outing Hadley's father as a cheater. Okay, no offense, but that's impossible. It's not discovered whodunit till later. Who has the time to paste all those Post-Its on a door, anyway? Also: Why wouldn't a neighbor have called the police for defacing property? A similar situation happens in Tease and police are called.

Livy, Sam's sister, is so annoying. Firstly, she needs her own friends. I love my sister, but I don't like her friends and I'm sure the feeling's mutual. Sam was always asking for her opinion and babying her. She also has asthma, which is unfortunate, but when you have a life-altering condition, I would hope you'd learn to control it on your own and/or keep your emotions intact to insure your health. Whenever something mildly distressing happened, which was often, Livy begun choking and everyone started screaming for her inhaler.

Sam and Hadley's relationship was weird, too. He would invite her to his house, then kick her out a few minutes later. I've seen this happen in another YA (i.e. Dreamology) and I would be like: "Um, no. Not leaving." Also, their cupcake fight / makeout in a children's playground? Double weird.

"If I hadn't known the guy since I was six, I'd probably report him as a terrorist threat."
This book is dual POV between Sam and Hadley, and Sam refers to his Indian best friend as the above quote. Obviously,
obviously
not okay. This book had been apart of an ARC tour between the '16 Debut Authors and this quote was included in the print arcs and the finished copies. (Apparently, it's going to be removed in the second printing. Either way...) I'm shocked and hurt on the behalf of my friends no one thought to mention or remove this obviously unfunny comment.
I enjoyed seeing how cheating itself was tackled. This is the first time I may've felt sympathy for someone who'd cheated. I really, truly felt horrible for Hadley's father. Her parents. Their relationship had been through so much. Sam and Hadley don't seem like they'll last, though. Hypothetically, if a couple like them
did
exist, your parents were together before you. That's so sick and weird. I would constantly hold onto that. Ick. Anyway, a semi-promising debut. Probably not worth the recommend, though.