Jenna Evans Welch - Love & Gelato
Published
: May 3, 2016 by Simon Pulse
Genres
: Contemporary, Realistic Fiction, Young Adult
Pages
: 390
Find on
:
Amazon
,
Book Depository
,
Goodreads
Rating
: 1/5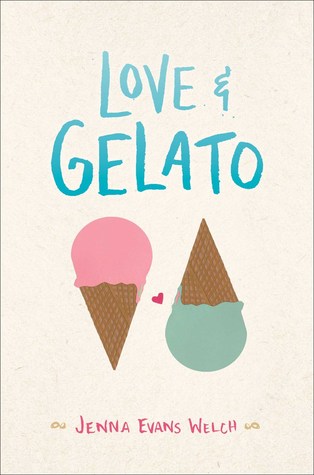 "I made the wrong choice."

Lina is spending the summer in Tuscany, but she isn't in the mood for Italy's famous sunshine and fairy-tale landscape. She's only there because it was her mother's dying wish that she get to know her father. But what kind of father isn't around for sixteen years? All Lina wants to do is get back home.

But then she is given a journal that her mom had kept when she lived in Italy. Suddenly Lina's uncovering a magical world of secret romances, art, and hidden bakeries. A world that inspires Lina, along with the ever-so-charming Ren, to follow in her mother's footsteps and unearth a secret that has been kept for far too long. It's a secret that will change everything she knew about her mother, her father—and even herself.

People come to Italy for love and gelato, someone tells her, but sometimes they discover much more.
~
Yes, it is possible to feel secondhand embarrassment for a book.

Carolina "Lina" Emerson has been whammed by the ultimate curveball. Her mother has recently passed after a short battle with cancer, but before her untimely passing, she informs her to find her father in Tuscany, Italy, and hands her a journal detailed with her finest Italian adventures and Lina sets off.

There: Lina meets Howard, her supposed father. Also, a neighborhood boy, Italian McItalian Lorenzo "Ren" Ferrera. Lina is welcomed easily into his circle of friends, and is soon introduced to another gorgeous boy, a British-English masterpiece, Etienne St. Clair - I mean, Thomas Heath Bar. Deep-fried instalove occurs.

There's a lot of food porn. I mean, predictably. It's I-T-A-L-Y. Pizza, pasta, ice cream. But when we're in an exotic location, I would hope to see something different and/or new. Lina was stunned by the existence of gelato. Um, that exists in other locations, too. As in, Talenti, which you can find at your local supermarket. (I did learn of the cornetta, which sounds delicious.)

Lina uses her mother's journal as leverage and reads up on her mother's grandest excursions. She hooked up with a teacher,[ Lina's biological father, (hide spoiler)] whom she initially labeled as X. She was apart of a love-triangle as Lina was. She saw a psychic. Her best friend was cooler than her. It's all very high-energy.

Howard is SUCH a great guy and Lina's mother complicated things. A classic case of: "She loves him. He loves her. Um, why??" Tell him the TRUTH, woman.

Personally, I didn't like either Ren or Thomas. Ren was an Italian stereotype (in one of their first interactions, he says native Italians pretty much only wear Gucci??) (and he had a girlfriend), and Thomas/Lina was too instalove-y.
(...) "Sorry, what'd you say?"
The boy grinned. "I just said that I'm Thomas. And I gather you're the mysterious Carolina?" He had a British accent.
A. British. Accent.
"Yes, nice to meet you. I go by Lina." I shook his hand, doing my best to stay upright. Apparently "weak in the knees" was a real thing.
The ending and everything after is way too Disney. She needs the perfect dress. The boys are all in suits. Fireworks. Alright, alright, I can see why this was a NYT Bestseller. Either way, it's too cutesy and overexaggerated and not for me.