~
Gretchen McNeil - I'm Not Your Manic Pixie Dream Girl
Expected publication
: October 18, 2016 by Balzer + Bray
Genres
: Contemporary, Young Adult
Pages
: 352
Find on
:
Amazon
,
Book Depository
,
Goodreads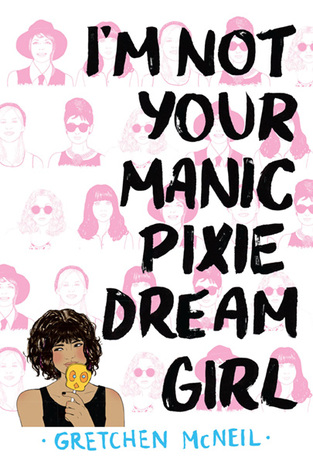 Beatrice Maria Estrella Giovannini has life all figured out. She's starting senior year at the top of her class, she's a shoo-in for a scholarship to M.I.T., and she's got a new boyfriend she's crazy about. The only problem: All through high school Bea and her best friends Spencer and Gabe have been the targets of horrific bullying.

So Bea uses her math skills to come up with The Formula, a 100% mathematically-guaranteed path to social happiness in high school. Now Gabe is on his way to becoming Student Body President, and Spencer is finally getting his art noticed. But when her boyfriend dumps her for Toile, the quirky new girl at school, Bea realizes it's time to use The Formula for herself. She'll be reinvented as the eccentric and lovable Trixie—a quintessential manic pixie dream girl—in order to win her boyfriend back and beat new-girl Toile at her own game.

Unfortunately, being a manic pixie dream girl isn't all it's cracked up to be, and "Trixie" is causing unexpected consequences for her friends. As The Formula begins to break down, can Bea find a way to reclaim her true identity, and fix everything she's messed up? Or will the casualties of her manic pixie experiment go far deeper than she could possibly imagine?
~
LOOK AT THAT COVER. LOOK AT
IT
. The MC is holding a Tweety Popsicle, for OMG-sakes.
Is it just me or does the MC's name also sound a little Mary Sue-ish/manic pixie dream girl, too? I wonder if that was intentional. It reminds me of The Suite Life of Zach & Cody with all of that, the new Esteban Julio Ricardo De La Rosa Ramirez over here.
ALSO IN THE BACKGROUND OF THE COVER:
MANIC PIXIE DREAM GIRLS
AAH. I saw Holly Golightly from Breakfast of Tiffany's. I noticed that the first time, too, and I got so offended. I was like: "Um, no???" But who knows? Maybe. Also, I *think* I see Clementine from Eternal Sunshine of the Spotless Mind.
I'm simultaneously nervous and excited for this book, but my excitement is over-exceeding it. Obviously, we all need a copy of this pink pretty in our lives.