Kasie West - P.S. I Like You
Published
: July 26. 2016 by Point
Genres
: Contemporary, Realistic Fiction, Young Adult
Pages
: 304
Find on
:
Amazon
,
Book Depository
,
Goodreads
Rating
: 2/5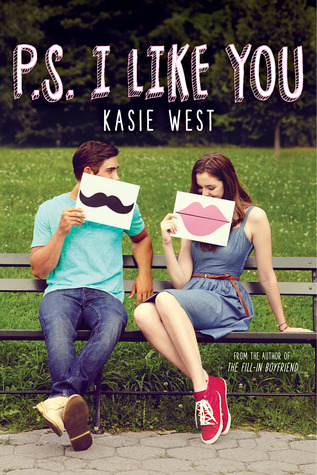 Signed, sealed, delivered…

While spacing out in chemistry class, Lily scribbles some of her favorite song lyrics onto her desk. The next day, she finds that someone has continued the lyrics on the desk and added a message to her. Intrigue!

Soon, Lily and her anonymous pen pal are exchanging full-on letters—sharing secrets, recommending bands, and opening up to each other. Lily realizes she's kind of falling for this letter writer. Only, who is he? As Lily attempts to unravel the mystery and juggle school, friends, crushes, and her crazy family, she discovers that matters of the heart can't always be spelled out…
~
Kasie West (aka: Queen Kasie) is one of my Top 5 Favorite Authors Books I Shall Not EVER Pass Up, so I appropriately lunged for this because playlists and cute boys and even cuter covers.

The Fill-In Boyfriend gave me a hard time, so I should've went into this a little more cautiously. Although, Kasie's debut novel, The Distance Between Us, which I sadly don't own a copy of, stands as one of my all-time YAs because Xander is such a gorgeously gorgeous pure-bred rich boy with A+ intentions.

ANYWAY.

Lily hates Chemistry, more-so than the average student. She spends a majority of the class, doodling song lyrics in her notebook and/or daydreaming into infinity. So when she pens a stream of song lyrics onto her desk, the next day an anonymous student decides to include the next verse and their conversation delves into notes and actual real-life occurrences.

Just so you know, I predicted the "penpal reveal" straight-away. This book can't keep a secret. They were telling each other their entire lives through these notes, then they'd "coincidentally" run into one another the next day. I was almost hoping Kasie was going to pull the rug out from under us, and be like, "Just playing, it's the mean girl! Out to ruin your life yet again! Mwahaha!"

And at one point, one of Lily's brothers accidentally busts her guitar, but when the true culprit attempts to confess, then doesn't, she's like, "GASP! Is Wyatt still upset from when I hit him with a piece of toast, three years ago?" Get a grip, Lily.

Didn't like Cade either. He's a rich bad boy. Rich enough to let his friends casually drive off with his car. I like when bad boys are aimless flirts, but aren't full-on bullies, yafeelme? He seems like the type of guy to purposely initiate an argument with you, then say something totally atrocious, like, "You're a whore, just like your mother." He dated Lily's best friend, Isabel, once upon a high school year, and Lily forced them to break up. Such a great friend, right?
(...) I followed him as he left, trying to think of some way to explain forcing him to leave without having to tell him the real reason. He reached the door.

"So did the truce have a time limit?" he asked, without looking back. "Or is this the hour when you turn back into a..."

He didn't finish that sentence but I could fill in the blank.
I actually really liked Isabel, though. The sad thing is, her sole point of existing was for Lily. Whenever Lily faced a crisis, she rang her, cried to her, wanted to sleep over her house. Lily treated her horribly and stole her boyfriend, like, no girl. What kind of petty drama is this? I would never break up with my boyfriend for my best friend. Next.
(...) She looked at the floor then back up quickly, but not before I knew the truth. She had broken up with him because of me. Because I couldn't get along with him. I always suspected that, but she'd always contradicted me. And now I knew for sure.

"Well, I won't stand in your way anymore," I snapped. "Go get him back."

She gasped. "I'm with Gabriel now. I don't want him back."

"You just don't want me to have him."

"You said you didn't want him."

"I don't."
File under: Cute concept, horrible execution. Since it's by Queen Kasie, it's never an entirely horrible read. Although, since this book had prided itself upon being music-themed, I would've preferred a few playlists, ala Morgan Matson. There are a few cute scenes found here within Lily's family, and Isabel is a phenomenal best friend. The "penpal romance" just yucked the book for me.