~
A few old reviews and one newbie. Don't worry, I won't bomboard y'all with three/four reviews in one post too often. Well, definitely not four reviews per post. That's a little too wacky. Even for me. Just thought I'd share these few for now. Share some words if you will! ;)
~
Laura Tims - Please Don't Tell
Published
: May 24, 2016 by HarperCollins
Genres
: Thriller, Romance, Young Adult
Pages
: 352
Find on
:
Amazon
,
Book Depository
,
Goodreads
Rating
: 3/5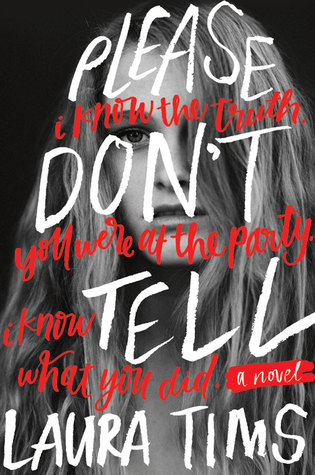 Joy killed Adam Gordon—at least, that's what she thinks. The night of the party is hazy at best. But she knows what Adam did to her twin sister, Grace, and she knows he had to pay for it.

What Joy doesn't expect is that someone else saw what happened. And one night a note is shoved through her open window, threatening Joy that all will be revealed. Now the anonymous blackmailer starts using Joy to expose the secrets of their placid hometown. And as the demands escalate, Joy must somehow uncover the blackmailer's identity before Joy is forced to make a terrible choice.

In this darkly compelling narrative, debut author Laura Tims explores the complicated relationship between two sisters, and what one will do for the other. It's a story that will keep readers turning pages and questioning their own sense of right and wrong.
~
"You slept with my sister."
He winces. "Adam kept telling me to do it...and then she was so...she was really into it, and..."
"Did you sleep with her because she looks like me or she's hotter than me?"
I'm horrible. I have become a horrible person.
Never been gladder I don't have a twin sister.
Joy has murdered Adam Gordon. The thing is, she doesn't remember. After blacking out a party, she remembers the night thinly and when a note is shoved through the window by a nameless assailant, informing her they know what she did and threatening her to do a series of tasks, so they won't contact the police.
First of all: Unrealistic. Adam is found dead in the quarry and he's automatically buried. Police don't really investigate why and/or how he died. A police officer occasionally stops by Joy's house, asking nonsense questions, but this story is more about "adults: they're either crooked or too busy for us." Joy is so stupidly paranoid, she thinks telling the authorities will get her in
more
trouble. Um, no. Blackmail is ILLEGAL, fool.
Joy also has the tendency to get blackout drunk. Like, whenever she encounters alcohol, she can't control herself. In multiple of Grace's flashbacks, she's either happy-drunk or Grace is yearning to be her, which isn't AT ALL uncomfortable to read. Although, I'm not sure why because the girl is wasted half the time. This story is dual-POV between current-day Joy and Grace, Joy's twin, pre-Adam's murder/tragic incident.
Honestly, I don't think their parents were terrible people, though. The parents think they were helping them, but weren't. They were just
too lenient.
It's an issue when you have no idea what's wrong with your children. Joy obviously has an eating disorder and Grace belongs in a mental institution, but
(view spoiler)
I think the ending signifies Grace is finally placed in one. (?)
Tims's debut was interesting in the way it made me hate and sympathize with a character at the same time. Her style of writing is stunning and their personalities are very much real. Despite how much a few side-characters annoyed me, it's truly a knockout read.
~
Kathryn Holmes - How It Feels To Fly
Published: June 14, 2016 by HarperTeen
Genres: Realistic Fiction, Young Adult
Pages:
Find on:
Amazon
,
Book Depository
,
Goodreads
Rating: 2/5
The movement is all that matters.

For as long as Samantha can remember, she's wanted to be a professional ballerina. She's lived for perfect pirouettes, sky-high extensions, and soaring leaps across the stage. Then her body betrayed her.

The change was gradual. Stealthy.

Failed diets. Disapproving looks. Whispers behind her back. The result: crippling anxiety about her appearance, which threatens to crush her dancing dreams entirely. On her dance teacher's recommendation, Sam is sent to a summer treatment camp for teen artists and athletes who are struggling with mental and emotional obstacles. If she can make progress, she'll be allowed to attend a crucial ballet intensive. But when asked to open up about her deepest insecurities, secret behaviors, and paralyzing fears to complete strangers, Sam can't cope.

What I really need is a whole new body.

Sam forms an unlikely bond with Andrew, a former college football player who's one of her camp counselors. As they grow closer, Andrew helps Sam see herself as he does—beautiful. But just as she starts to believe that there's more between them than friendship, disappointing news from home sends her into a tailspin. With her future uncertain and her body against her, will Sam give in to the anxiety that imprisons her?
~
(
EDIT
: This is my original review, which you can also find on GR and I stand by it, but I've developed 2% sympathy toward Sam.)
Samantha "Sam" is a professional ballet dancer, but when her body ultimately betrays her, she's sent to a rehabilitation camp to deal with issues related to her body image and long-standing anxiety. There: she meets a plethora of supportive counselors, friends on the campground with similar issues, and a particularly handsome advisor, Andrew.

This sounds like a fantastic book. Except it wasn't.

Sam is depressing. I obviously wasn't expecting sunshine and rainbows and streams of butterflies from a book about an eating disorder. One of my favorite books on this topic is Paperweight. Sam sat in the corner and sulked. Thought about every depressing moment in her life and sulked. She remained in her thoughts. You know, it's realistic. As someone with body image issues, I could relate. But if you're looking for a book with a positive outcome, I wouldn't recommend this.
"Don't be shy. You're all highly skilled in your fields. Brag a little."
Go on. Brag, my inner voice snorts. Like you have anything to brag about.
That inner voice is Sam's and it's pretty much a negative version of Anastasia's from Fifty Shades of Grey. It's frequent and annoying. (i.e. "My inner voice sighed in disgust", "My inner voice snorted.")

In Sam's mind, everyone was always picking on her. In the first chapter, the girls in her class were observed to be laughing at her, which is one of my greatest pet peeves in a book. Like, they barely know you??? Why would they even have to acknowledge you?!
(...) None of that can keep people from noticing. From commenting. From offering advice. From whispering behind my back. It's amazing how much damage fourteen pounds can do.
Sam has recently gotten out of a relationship with a boy, Marcus. She accused him of leaving her because she was fat. Um, why would someone
ever
.
She called him in the middle of the night, prepared for a screaming match, and he handled it like a pro.
Sam crushes on one of the counselors, Andrew, who is a giant snitch. I feel like the student-teacher trope - which is x1000 levels of gross - should never be a thing.
I had a feeling they weren't gonna work, anyway. He's a junior in college and she's a junior in high school. The rejection was still sad.
Whereas, the difference between this book and
Paperweight
, I feel like the therapists tried harder in Paperweight. In the climax, Sam ditched the facility and the counselors were like: "Oops, sorry. We're kicking you out, hon." In
Paperweight
's climax, they hugged the MC and accepted her back into the facility. No problemo.
The ending was a complete copout. Sam was depressed throughout the whole book, and by the final chapter, everything worked out in her favor.
[ she was miraculously fine? (hide spoiler)]
Unreal. Unbelievable. Also: her mother is a giant enabler, so I have a hard time believing their relationship was magically fixed by the last chapter. Disappointing.
~
Emma Wunsch - The Movie Version
Expected publication
: October 11, 2016 by Amulet Books
Genres
: Contemporary, Realistic Fiction, Young Adult
Pages
: 364
Find on
:
Amazon
,
Book Depository
,
Goodreads
Rating
: 2/5
A whip-smart, heart-wrenching debut YA novel about first love, first loss, and filmmaking that will delight fans of Jandy Nelson and Jennifer Niven

In the movie version of Amelia's life, the roles have always been clear. Her older brother, Toby: definitely the Star. As popular with the stoners as he is with the cheerleaders, Toby is someone you'd pay ten bucks to watch sweep Battle of the Bands and build a "beach party" in the bathroom. As for Amelia? She's Toby Anderson's Younger Sister. She's perfectly happy to watch Toby's hijinks from the sidelines, when she's not engrossed in one of her elaborately themed Netflix movie marathons.

But recently Toby's been acting in a very non-movie-version way. He's stopped hanging out with his horde of friends and started obsessively journaling and disappearing for days at a time. Amelia doesn't know what's happened to her awesome older brother, or who this strange actor is that's taken his place. And there's someone else pulling at her attention: a smart, cute new boyfriend who wants to know the real Amelia—not Toby's Sidekick. Amelia feels adrift without her star, but to best help Toby—and herself—it might be time to cast a new role: Amelia Anderson, leading lady.
"Are you alive?" Ray calls.

"Bleck blech bleeeeck!" I respond.
How I felt about this book, honestly
.
Amelia has recently returned from a summer away in Montauk, babysitting. As she's welcomed home, she immediately notices her brother, Toby, acting peculiar. Too bad, she has a preppy prep-school boyfriend, who lives in NYC, and she prefers to view life in The Movie Version way because it's
much
more glamorous. I mean, who wouldn't, right? Right.
So while on a casual rendezvous with her boyfriend, the family demands her home because Toby has had an "incident." This comes as a shock to the whole family, but mainly to Amelia. Her brother, who is popular, friends-with-everyone, can talk his way out of a ticket, is mentally ill? How can that be?
Amelia prides herself on being a film fanatic, compiles lists of her favorite movies, but she really doesn't watch anything outwardly. And when she describes these movies, she's like, "I watched Pineapple Express, The Lego Movie with my brothers, and The 40-Year Old Virgin just so happens to have a virgin in it." Um, this is Wikipedia information.
Then I bend down and put my slippers back on. I can't help but think of 12 Years A Slave, The Call, and the stupid Michael Bay one with Mark Wahlberg. Plus there's Changeling and Gone Baby Gone and Argo and Gone Girl. Ben Affleck is kind of into kidnapping.
Maybe you should consider rewatching Gone Girl, hon.
There are a few
laughably
graphic sex scenes, but I was more annoyed by how the parents' in this YA let the teenagers get away with
everything
. Amelia would be like, "I'm sleeping over my boyfriend's for a few days in the middle of the semester. 'K?" And her parents wouldn't even bat an eyelash. And NO ONE ever walked in on them. They had the perfect sensual scenes. Kiss, kiss, hey, I have a condom in my backpocket, btw? Meanwhile, her brothers are upstairs, playing on their PS3 or something.
I don't wanna go full-depth into Toby's illness, but the author wrote his character so well. Truly. I felt bad to read his scenes and be forced to shake my head, and say, "Sad."
Amelia was constantly trying not to be compared to Toby, but I think she secretly wanted his life. The popular version of it, that is. She started hanging with his friends, driving his car, attending every party he previously ruled, and he was stunned to discover this.
Also, I think Amelia's best friend, Ray, was secretly in love with Toby.
[ secretly in love with Toby. Like, for-real-in-love. (hide spoiler)]
Even knowing his current situation and all. Not judging, but it was interesting. Amelia didn't care for it, admittedly. I would've liked to see more of that subplot developed. And the writing isn't outright impressive, but for a debut, it's interesting.
Drinking wine on the Upper West Side with kids named Ramona, Holden, and Chloe makes me feel like I'm in a Wes Anderson movie. I just wish I liked it. But the wine tastes like wine - bitter and kind of gross. The bruschetta is good, though, and I compliment Chloe.
Those little parts annoyed me, just sayin'. Not a terrible book, but because of Amelia's occasional snootiness, I retain my blah attitude.