Michael Kun & Susan Mullen - We Are Still Tornadoes
Expected publication
: November 1, 2016 by St. Martin's Griffin
Genres
: Contemporary, Young Adult
Pages
: 304
Find on
:
Amazon
,
Book Depository
,
Goodreads
Rating
: 3/5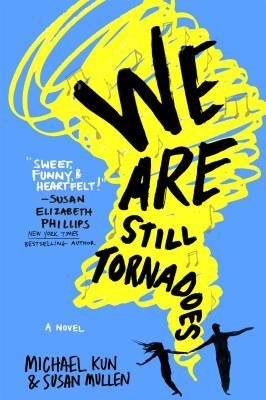 Growing up across the street from each other, Scott and Cath have been best friends their entire lives. Cath would help Scott with his English homework, he would make her mix tapes (it's the 80's after all), and any fight they had would be forgotten over TV and cookies. But now they've graduated high school and Cath is off to college while Scott is at home pursuing his musical dreams.

During their first year apart, Scott and Cath's letters help them understand heartache, annoying roommates, family drama and the pressure to figure out what to do with the rest of their lives. And through it all, they realize that the only person they want to turn to is each other. But does that mean they should be more than friends? The only thing that's clear is that change is an inescapable part of growing up. And the friends who help us navigate it share an unshakable bond.

This funny yet deeply moving book--set to an awesome 80's soundtrack--captures all the beautiful confusion and emotional intensity we find on the verge of adulthood...and first love.
~
Fans of Love, Rosie and Pretty in Pink (aka: me) (sorta), y'all will love this.
Scott and Cath are childhood best friends. Meanwhile, Cath is heading off to university, Scott is sticking the education route altogether to work at his father's shop and front a band because he's feeling self-confident. He and Cath maintain contact through letters, postcards, and Post-Its. Just so you know, it's the '80s. As in, no phone. As in, no constant LOLing to ruin a conversation.
I was a definite fan of Love, Rosie, but it took me a minute to get into this. Mainly, because their letters are long and they write about mostly nothing, and Cath gets offended over everything. They were having arguments via "letters." and I found this so confusing. I understand it's the '80s and all, but you could find a payphone and, um, housephones exist. I was tempted to secretly rename this book to: "Get a grip, Cath."
"Readers aching for a combination of the '80s and a romance like Rainbow Rowell's Eleanor & Park (2013) will be stoked to find this novel." —

BOOKLIST
"Sweet and heartfelt, this is one contemporary YA fans won't want to miss." – BUZZFEED, 23 YA Books You Need to Read This Fall
"

A love story to best friends everywhere.
Smart, charming, and delightful." – KIRKUS
"Playful banter, private jokes, dark family secrets, and major life changes are all explored in intimate exchanges… Kun and newcomer Mullen craft separate and authentic voices for their protagonists, [and] the correspondence allows for a deep understanding of Scott and Cath's thoughts, feelings, and ruminations on the events changing their lives." – PUBLISHERS WEEKLY
I enjoyed the music references. (PRINCE!) (FREDDIE MERCURY!) (R.E.M!) I also preferred Scott and Cath as friends. Cath was too good for him, honestly. Certain aspects of their romance felt forced. Cath is going to be that successful college girl, and Scott is going to be that loser hometown boy who lives with his parents and is still trying to sell his mixtape at forty-seven.
The drama is relatively D-List, but I could relate to Cath's college issues more than anything, though nothing overly phenomenal happens. Although, there is one serious event that warranted a phonecall and they just continued sending letters.
The ending was sudden and it confused me for a minute, actually. I had to go back and reread it, but it works. If you're shipping the main ship, I'm sure everyone will love it. Although, I preferred the friendzone for this peculiar pair. Still, there's so much to love about this novel. Um, it's the 80s, all the name-droppings of muscians, a hysterical Freddie Mercury you can only read the book to understand, and I can tell this book must've been a blast to write because the characters hit it off so well.
MICHAEL KUN
lives in Los Angeles, California, with his wife Amy and their daughter Paige. He is a graduate of the Johns Hopkins University and the University Of Virginia School Of Law. He is a partner in Epstein Becker & Green, P.C., specializing in labor and employment law. He is the author of

The Locklear Letters

and

You Poor Monster, among other works of fiction and non-fiction.
We Are Still Tornadoes
is SUSAN MULLEN'S first novel and first collaboration with Michael.

She is a graduate of Duke University, where she studied English literature, and the University Of Virginia School Of Law.

She practices law and lives in Northern Virginia.

Sue has been married to her law school classmate Kevin Mullen for 25 years, and they have two daughters.