SO. I wanted to end this year with a "Best of 2016," or something similar, but since I've had 0% time to post anything since I've been in college, I wanted to toss over a few recent reviews, ala an amazing Christmassy read, a hella great thriller, and a sideshow romance with a dark twist.
Our New Year's Eve ham is currently baking, awaiting an oh-so-sleek honey glaze, and my mom is promising me a peppermint shake for when she returns from the supermarket, so as long as I monitor it in the meantime. I'll probably start '17 off with a catch-up post, seeing as we have a lot to catch up on, reviews and general life and all.
For now, let's enjoy the end of '16 as I'm sure we all are. Enjoy stomachfuls of sparkling cider (I hate champagne, but that's my preference) (if you're underage, stick solely to cider), gawk over the fireworks, dance till dawn, remember your resolutions, and love yourself. See you in '17.
~
Anita Hughes - Christmas In Paris
Published
: October 4, 2016 by St. Martin's Griffin
Genres
: Adult, Romance
Pages
: 277
Find on
:
Amazon
,
Book Depository
,
Goodreads
Rating
: 3.5/5
Hughes will fill your heart with the sights, sounds, and flavors of new love, glamorous fashion, and decadent holiday cuisine.

Isabel Lawson is standing on the balcony of her suite at the Hotel Crillon as she gazes at the twinkling lights of the Champs Elysee and wonders if she's made a terrible mistake. She was supposed to be visiting the Christmas tree in the Place de la Concorde, and eating escargots and macaroons with her new husband on their honeymoon. But a week before the wedding, she called it off. Isabel is an ambitious Philadelphia finance woman, and Neil suddenly decided to take over his grandparents' farm. Isabel wasn't ready to trade her briefcase for a pair of rubber boots and a saddle.

When Neil suggested she use their honeymoon tickets for herself, she thought it would give her a chance to clear her head. That is until she locks herself out on the balcony in the middle of winter. Thankfully her neighbor Alec, a French children's illustrator, comes to her rescue. He too is nursing a broken heart at the Crillon for the holidays. With a new friend by her side, Isabel is determined to use her time in the city of lights wisely. After a chance encounter with a fortune teller and a close call with a taxi, she starts to question everything she thought was important.

Christmas in Paris is a moving and heartwarming story about love, trust, and self-discovery. Set during the most magical week of the year, the glorious foods and fashions of the most romantic city in the world are sure to take your breath away.
~
Isabel is striving for the greater, golden things in life - aka: a man's $. And hopefully, a man who has it. So when she's told by a fortune teller she may soon marry a French aristocrat, she quite literally takes that to heart and finds a man who promises her those very hopes and dreams. But when she's fatefully meets Alec on their respective hotel balcony after an accurate shoe toss, she's wonderstruck.
However, Alec has already met a lovely lady in Celine
Dion
and has taken an immediate liking to her, but everyone in his life hates her because of thy instalove. Eventually, Celine leaves with the ring he gave her. (#LoveItOrListIt) (The Celine joke is more true than funny, really, considering how everyone in this novel is French or claims to be.)
After Celine has gone, Alec wants to appeal to Isabel with his outstanding personality and his leftover funds, but she's dedicated to her richer man and his bank account. Believe me when I say, Alec is far too nice and undeserving for the women of this book. Isabel is selfish, but I hate to say, realistic. She wants the good things in life as we all do.
There's about half a dozen sex scenes, and I'm probably a heathen for admitting I enjoyed reading them. Besides Emily Giffin, Anita Hughes is the only Chick-Lit author I can logistically stand. Also, I'm not sure if she has done extensive research, or if she is enormously rich, this book was gorgeous to read and not for the faint stomach. Now, I'm craving macarons and white chocolate mousse and an all expenses-paid trip to Paris. I meaaaan, job well done.
Lilliam Rivera - The Education of Margot Sanchez
Expected publication
: February 21, 2017 by Simon and Schuster
Genres
: Contemporary, Romance, Young Adult
Find on
:
Amazon
,
Book Depository
,
Goodreads
Pages
: 304
Rating
: 2.5/5
Pretty in Pink comes to the South Bronx in this bold and romantic coming-of-age novel about dysfunctional families, good and bad choices, and finding the courage to question everything you ever thought you wanted—from debut author Lilliam Rivera.

THINGS/PEOPLE MARGOT HATES:

Mami, for destroying my social life
Papi, for allowing Junior to become a Neanderthal
Junior, for becoming a Neanderthal
This supermarket
Everyone else

After "borrowing" her father's credit card to finance a more stylish wardrobe, Margot
Sanchez suddenly finds herself grounded. And by grounded, she means working as an indentured servant in her family's struggling grocery store to pay off her debts.

With each order of deli meat she slices, Margot can feel her carefully cultivated prep school reputation slipping through her fingers, and she's willing to do anything to get out of this punishment. Lie, cheat, and maybe even steal…

Margot's invitation to the ultimate beach party is within reach and she has no intention of letting her family's drama or Moises—the admittedly good looking but outspoken boy from the neighborhood—keep her from her goal.
~
I had a feeling I wouldn't like Margot going into this book. She's extremely privileged and shallow, which is made loudly known at certain points. She's very reminiscent of Sam from Before I Fall, but at least, Sam grew with the novel. Margot didn't, really. Margot "Princesa" Sanchez has been forced to work at her father's supermarket after maxing out her father's credit card. There, she's forced to deal with her older, overprotective brother, Junior, Papi's inane rules, and frown while her friends' shower her with their constant poolside updates.
Considering how we have so few diverse reads, I definitely enjoyed this and it truly exemplifies the lifestyle of the Bronx. Margot is Puerto-Rican and well-to-do. She has a housekeeper and she and her friends vacation in the Hamptons. Alrighty, hun. She's also extremely disrespectful to her parents, and anyone who has grown up in a Spanish household hasn't lived to tell the tale of talking back to a parent. Saying that, I was unable to relate to her.
"Esa idiota barely finished elementary school. We're lucky she can count to ten." Mami's pleased with her decorative napkins. "Now hand me those cups."
I toss the cups on the table, intentionally ruining her silly display.
"Jasmine is right, you're so full of yourself."
Before I can walk away, Mami takes hold of my arm.
"Fix this right now."
"No! Fix it yourself."
Margot is no longer with us, sadly.
There's a corny version of a love interest, Moises. Not Moses. Moises. Not judging. He's…
interesting. He does volunteer work, but #get #a #real #job. Even her family thinks he's a creepazoid.
[ Sidenote: the Papi/Jasmine twist made me so uncomfortable, it nearly killed the book entirely for me. (hide spoiler)]
Papi picks up the phone. He's not protecting me. He's worried about his image and what people will say if they find out his precious daughter speaks to a former drug-dealer-turned-activist. They can't control me. If they're so nervous about me ruining the Sanchez reputation, I'll give them something to truly worry about.
Margot is deliberate in everything she does. She constantly wants to be noticed and make a reaction. And when you're rich, I think you're unable to relate to someone's lesser issue. Weirdly enough, she seems to be an example of the "pastor's daughter" trope. I liked her friends, even though she didn't, and they technically don't understand the geological definition of friendship but they don't seem like bad people. And I liked Margot's parents. They're far from #RelationshipGoals, but they were heavily involved in their kids' outside drama. I adore NYC-based reads, which goes without saying, but Margot's personality was an instakiller. Yeah, sorry.
Caleb Roehrig - Last Seen Leaving
Published: October 4, 2016 by Feiwel & Friends
Genres: Contemporary, Thriller, LGBTQIA, Young Adult
Pages: 336
Rating: 5/5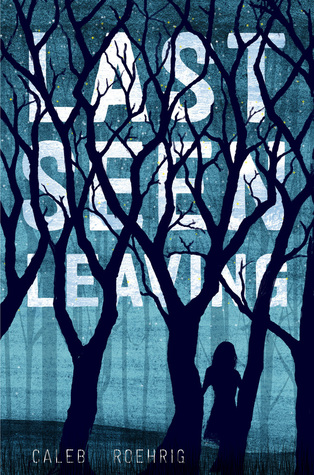 Flynn's girlfriend has disappeared. How can he uncover her secrets without revealing his own?

Flynn's girlfriend, January, is missing. The cops are asking questions he can't answer, and her friends are telling stories that don't add up. All eyes are on Flynn—as January's boyfriend, he must know something.

But Flynn has a secret of his own. And as he struggles to uncover the truth about January's disappearance, he must also face the truth about himself.
~
HO. LEE. SHIT.

Did. Not. See. That. Coming.

Fifteen-year old Flynn returns home one evening to find police cruisers parked in his driveway. He automatically assumes it's over his secret stash of pot, but when the police and his parents simultaneously confront him, it's discovered to be something worse: his girlfriend, January, has gone missing.

Although, he's enjoyed January's company, unfortunately, Flynn hasn't felt the same way. The reason being: he's gay.[ he's gay. (hide spoiler)] Either way, the police question him ruthlessly over where and what and who January really is. Flynn can only divulge so much information as he knows so little. But when components linked to January's disappearance start re-surfacing, Flynn is left cornered and confused.

I loved, loved, loved, loved this book. Flynn's parents are so unbelievably phenomenal. I found it interesting to not only see the after-effect of a surprise confession on a family, but on a best friend. The only thing, I really did predict was the relationship between (view spoiler)

Kaz - who is Muslim. Oh yas to the diversity, and Flynn.

(I ship them, clearly.)

My only problem, which is something very very very minor, was how rich people are portrayed as evil. January's mother struggled throughout her life, then married a rich politician, and he moved them into their mansion and transferred January to a prep school, ala Tell Me Three Things. January's mother is viewed as a materialistic woman after remarrying. The politician stepfather is somewhat crooked, too, depending on how you see him. He was nice enough to place their family in a house. But really, he had no reason to care for January. She was technically not even his daughter.
(...) "Tammy changed a lot when she remarried. In their old condo, she had one of the walls in the kitchen covered with the chalkboard paint so people could write over it? In their new house, she had white carpeting put down in one of the rooms on the first floor, and now no one's allowed to even go in there because she doesn't want it to get dirty."
Nothing wrong with that. Carry on.

This is slightly similar to Gone Girl, depending on how you look at it. I haven't read Thirteen Reasons Why, so I can't compare. I also could've done without the Epilogue,

but I was glad to see Kaz and Flynn's relationship survived the turmoil.

I kept my rating because I saw nothing coming. I was like: "So I think that's going to happening next. Wait, it doesn't? What?!" Literally, this book scared the fucking hell out of me. I attempted to speed-read it in one day, but I got tired and I finished the rest of it, the next day. Phenomenal, unexpected turnout it was.