Aprilynne Pike - Glitter
Published
: October 25, 2016 by Random House Books for Young Readers
Genres
: Fantasy, Historical Fiction, Young Adult
Pages
: 384
Find on
:
Amazon
,
Book Depository
,
Goodreads
Rating
: 2/5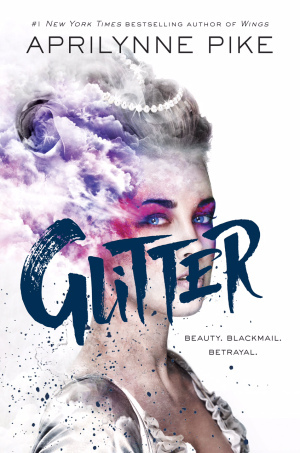 From #1 New York Times bestselling author Aprilynne Pike comes a truly original new novel—Breaking Bad meets Marie Antoinette in a near-future world where the residents of Versailles live like it's the eighteenth century and an almost-queen turns to drug dealing to save her own life.

Outside the palace of Versailles, it's modern day. Inside, the people dress, eat, and act like it's the eighteenth century—with the added bonus of technology to make court life lavish, privileged, and frivolous. The palace has every indulgence, but for one pretty young thing, it's about to become a very beautiful prison.
When Danica witnesses an act of murder by the young king, her mother makes a cruel power play . . . blackmailing the king into making Dani his queen. When she turns eighteen, Dani will marry the most ruthless and dangerous man of the court. She has six months to escape her terrifying destiny. Six months to raise enough money to disappear into the real world beyond the palace gates.
Her ticket out? Glitter. A drug so powerful that a tiny pinch mixed into a pot of rouge or lip gloss can make the wearer hopelessly addicted. Addicted to a drug Dani can sell for more money than she ever dreamed.
But in Versailles, secrets are impossible to keep. And the most dangerous secret—falling for a drug dealer outside the palace walls—is one risk she has to take.
~
Was I the only one who hated every one of these characters? K cool.
Danica is disgusting. Don't worry, I'll tell you why. So she's engaged to be married to King Justin (i.e. legit royalty) and she needs to escape this engagement. No pun intended, truly. You would think being a future queen is #life, but not to her. When she finds her father getting hyped, she's more interested than concerned. Apparently, he's not high off life, but a drug named Glitter, which he has specifically delivered to the palace and survives off to get through life with their family, I assume.
Danica decides to deal this very drug - aka: Glitter - to escape the prospect of an arranged marriage. She mixes it in with makeup, as if that makes it okay and deals solely to her friends and family. To avoid spoilers: it doesn't go well.
HOW
does no one rat on her?
I'm not sure what timezone this book is even set in? The blurb tells us modern-day, but the book describes it as futuristic and King Justin
Timberlake
is seen using a tablet to manage royal business, so I don't know.
Knowing how obviously gross Justin (probably the only thing I loved about this book was how she was the only one who constantly called him Justin) was, Danica continuously visited him at 3AM, alone, knowing he was prone to getting drunk and doing ridiculous things. Nonetheless, Danica's stupidity makes me wanna cry. I've truly never dealt with such an idiotic MC.
Plus, the names in this book irked me endlessly. For a dystopian - modern or not - they're so average. No offense to anyone with these names, surely, but I seriously
could not
. I noticed some reviewers had this problem with
Heartless
, but it didn't bother me so much there. These names, I swear, were literally taken from a 2016's Most Popular Baby Names. Danica. Angela. Justin. Molli. Get. REAL.
Okay, I know no one will agree (with good reason!). But if King Justin weren't so disgusting, I would've liked he and Danica as a couple. I totally misread their situation, I'm hoping. Considering this is a duology, I'm worried the prospect of a love-triangle will somehow be brought in, and I hope the author doesn't make that a thing.
I actually adored the ending because Danica was finally getting her just desserts. Secretly, I wish this was a standalone. Although, I
did
want to see that wedding.
[ Although, I do want to see that wedding. (hide spoiler)]
But it'll be interesting to see how this series finishes off.