Shani Petroff - Romeo and What's Her Name
Published
: February 7, 2017 by Swoon Reads
Genres
: Contemporary, Realistic Fiction, Young Adult
Pages
: 224
Find on
:
Amazon
,
Book Depository
,
Goodreads
Rating
: 3.5/5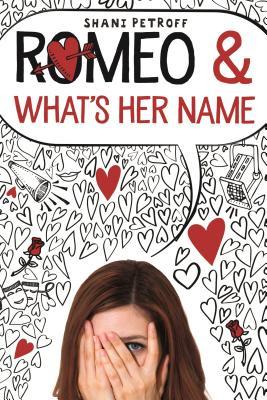 Understudies never get to perform

. . . which is why being Juliet's understudy in the school's yearly "Evening with Shakespeare" is the perfect role for Emily. She can earn some much-needed extra credit while pursuing her main goal of spending time with Wes, aka Romeo, aka the hottest, nicest guy in school (in her completely unbiased opinion). And she meant to learn her lines, really, it's just:
a) Shakespeare is HARD,
b) Amanda, aka the "real" Juliet, makes her run errands instead of lines, and
c) there's no point because Amanda would never miss the chance to be the star of the show.
Then, Amanda ends up in the hospital and Emily, as the (completely unprepared!) understudy, has to star opposite the guy of her dreams. Oops?
~
Emily is infatuated with Wes, and he's the star of the modernized school production of Romeo and Juliet, leading appropriately as Romeo, so he doesn't exactly have time for ordinary girls like her. (#Psh) So when Emily scores the glorified role of Juliet's understudy to the cereal-box mean girl, Amanda, who is playing Juliet, she couldn't care less about what the mean girl thinks of her (thankfully) as she's now one step closer to Wes. But when Amanda falls deadly sick at the last minute, Emily is forced onstage without a clue of what to do.
"I am sorry-eth, Romeo."

"It's okay." He sat down on the ground next to me and took my hand. I felt little sparks fly through me.

I shook my head. I couldn't let him go through this anymore. "No, I know how-eth this play end-eth. I shall stab-eth myself now to save-eth us both."

"Finally," someone in the audience yelled out.
I love-hate this concept because this is exactly what I would do. The concept is comical and relatable, surprisingly, very Crazy Ex-Girlfriend (in Emily's case, Crazy's Stalker-Stalker) meets Girl Meets World. And the play happens very early on in the book, but it isn't as ha-HA! funny as the synopsis insists, but you may have a laugh if you're not entirely heartless.
I nearly DNFed, shortly after the play, because the book gets a little draggy. There's a prom/school dance and a Does He Like Me/Does He Not? scandal that consumes the latter half of the book. The reason I kept to it was because I found myself relating, and believe me, I never thought I would relate to a book called Romeo & What's Her Name.
"Are we okay?"

"Why wouldn't we be?" I asked, and tried to smile. It felt fake, but it was all I could muster. I probably looked like the Joker from Batman.

"K, just checking. Wouldn't want to lose my friend."

The freaking f-word. Yeah, Wes, I get it. You're not into me. I'm just your friend. You don't need to remind me.
This is a short, cute book. Various details are missing, which slightly irked me, like the reason Amanda went to the hospital and why Wes is oh-so-desirable.
[ Wes is nice and gorgeous and accepting. Still, we never learn anything extra about him. (hide spoiler)]
Those little things stay with me and leave me wondering, but for its length, people will enjoy it.