Roshani Chokshi - A Crown of Wishes (The Star-Touched Queen #2)
Published
: March 28, 2016 by St. Martin's Griffin
Genres
: Fantasy, Romance, Young Adult
Pages
: 352
Find on
:
Amazon
,
Book Depository
,
Goodreads
Rating
: 3.5/5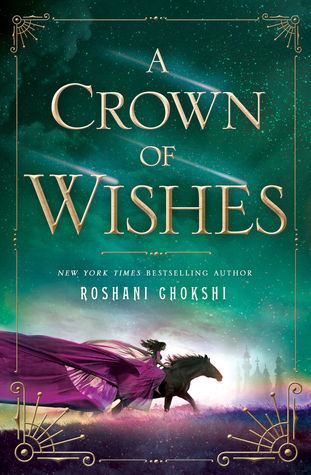 Gauri, the princess of Bharata, has been taken as a prisoner of war by her kingdom's enemies. Faced with a future of exile and scorn, Gauri has nothing left to lose. Hope unexpectedly comes in the form of Vikram, the cunning prince of a neighboring land and her sworn enemy kingdom. Unsatisfied with becoming a mere puppet king, Vikram offers Gauri a chance to win back her kingdom in exchange for her battle prowess. Together, they'll have to set aside their differences and team up to win the Tournament of Wishes—a competition held in a mythical city where the Lord of Wealth promises a wish to the victor.

Reaching the tournament is just the beginning. Once they arrive, danger takes on new shapes: poisonous courtesans and mischievous story birds, a feast of fears and twisted fairy revels.

Every which way they turn new trials will test their wit and strength. But what Gauri and Vikram will soon discover is that there's nothing more dangerous than what they most desire.
~
Roshani Chokshi is such a magnificent storyteller, it is UNDENIABLE. She could write 400 pages worth of diner menus and I'd undoubtedly read along.
Gauri, the princess of Baurata, better known as her kingdom's jewel, a girl who is fierce and foul, after her sister, Maya, has ascended to a newer throne and she's promptly kidnapped by her kingdom's greatest enemies. Gauri isn't one to dismiss, shortly after she's kidnapped, she's looking to outsmart her way out of their grasp.
Vikram, the slick-talking fox prince of their opposing land, comes to rescue her and offers the chance of escape as well as the opportunity for them to jointly enter the Tournament of Wishes, which is a tournament,
obviously
, led by the Lord of Wealth, who would promise a wish to the victor. So they join forces in an attempt to get what they want, clashing with serpent kings and mystical creatures, and more-so, each other.
"You're welcome, by the way, for dragging you back here. I had a couple offers to sell you and almost considered it."
"Intriguing. For how much? "
"A bag of gold, the ability to make thunderstorms go to sleep. Something else. Five goats?"
"Just five goats? I'm worth at least ten. Plus, a cow."
THE LURVES 💖:
·
The kiss scenes, quite literally, contained magic and heartbeats and souls and bird wings.
·
Did I mention the kiss scenes?
·
Two words: golden fruit.
·
Two more words: glass birds.
·

Following back on the glass bird comment because
so much bird love, guys. Mainly, because I love birds and there's an entire chapter dedicated to them with imagery and all. #CrazyBirdLady
·
For those who read The Crown of Wishes (which is an actual necessity, don't go into a book series and not read the first book, thanks), Gauri is Maya's younger sister, who was eight and terrified and sobbing when she was swept into a life of magic and arranged marriages and Gauri was forced to stay behind with the wives until Maya's "believed" return.
·
Unlike Maya and Amar, Gauri and Vikram's relationship consumes the entirety of the book to build and cultivate and turn romantical, and they don't focus on *just* each other, which was so enjoyable and breathtakingly relieving.
"Are you sure? You spend an awful amount of time looking at my lips."
"That's only because I'm horrified at the sheer idiocy of the words leaping out of them."
"Such tales." he tutted. "If you're curious, I'm willing to indulge you."
"I will," he said with a gallant brow. "Rocks are kinder and softer than you, anyway."
THE IFFY BITS 👎:
·
In all honesty, I cared about 1% for Gauri. (Though she had more personality than Maya, so that was an A+)
·
Not to be a Buzzy Buzzkill, but Vikram was TOO perfect and I hated that. He sang to her while she was sleeping and wrapped her bedsheets and wanted to snuggle, like, 24/7, and kissed like a Greek God. PLEASE, YA novels. Give me horrible kiss scenes.
·
Interestingly enough, I wasn't connected to Vikram and Gauri's relationship as I was Maya and Amar's. When bad things happened to Maya and Amar, I was so devastated and consumed and worried, but when bad things to Vikram and Gauri, I lazily continued reading.
·
Also, not a bad thing, but Maya is only referenced.
·
I read this, directly after I finished Caraval, and I truly wouldn't recommend that, so I wasn't as invested as I would've hoped. I'm not sure if the concept of a tournament is in?? Either way, I would've liked this idea more if the MCs didn't win the grand prize in every novel.
·
I was ready to rate this 5-stars until the ending, but it follows the path of a forced arranged marriage, if that's even a thing, and no likey. Gauri was literally against the idea, at first. If you have to convince someone to marry you, no comprehendo.
-
THE READING OF MY FIRST-EVER AUDIOBOOK 🎶:


Along with my galley, I had an audiobook of ACOW and that was a new listening experience for me. Yay, yay. Great abbreviation, by the way, and Priya Ayyar has a gorgeous voice. Though I did enjoy the introductory chapter, otherwise, I was so unimpressed by it. Her reading was very stilted, and if it were possible to kindly DNF an audiobook, I would. It would be better to fall asleep to than get hyped during her read, especially with Roshani's gorgeous fairytale. I always expect someone's voice to react with the story's dramatics. "Someone died, a girl cheated, a cat vomited!" but she didn't move her tone with the plot. I sped through it, yes, but it didn't enthrall in the way I'd hoped. I've heard from the lovely ladies at YA Wednesdays, Mosquitoland has a great audiobook and I'm anticipating it like nobody's business, so keep a lookout, friendly folks.
About The Author:
Roshani Chokshi is the New York Times bestselling author of THE STAR-TOUCHED QUEEN. Her work has appeared in Strange Horizons, Shimmer, and Book Smugglers. Her short story, "The Star Maiden," was longlisted for the British Fantasy Science Award.