Sarah Nicole Lemon - Done Dirt Cheap
Published
: March 7, 2017 by Amulet Books
Genres
: Realistic Fiction, Romance, Young Adult
Pages
: 336
Source
: NetGalley
Find on
: Amazon, Book Depository, Goodreads
Rating
: DNF 🖓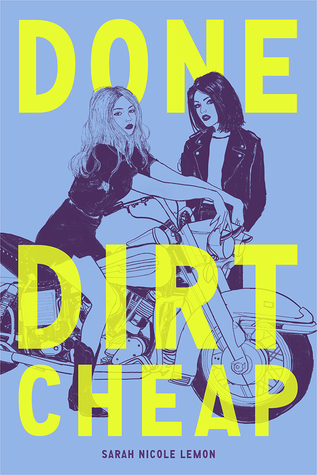 Tourmaline Harris's life hit pause at fifteen, when her mom went to prison because of Tourmaline's unintentionally damning testimony. But at eighteen, her home life is stable, and she has a strong relationship with her father, the president of a local biker club known as the Wardens.

Virginia Campbell's life hit fast-forward at fifteen, when her mom "sold" her into the services of a local lawyer: a man for whom the law is merely a suggestion. When Hazard sets his sights on dismantling the Wardens, he sends in Virginia, who has every intention of selling out the club—and Tourmaline. But the two girls are stronger than the circumstances that brought them together, and their resilience defines the friendship at the heart of this powerful debut novel.
~
This is one of those rarities, where the story is so fantastic and interesting and very well-thought, but in all truth, it didn't work for me. Although, Sarah Nicole Lemon's, especially as a debut author, is brilliant. She familiarized the reader with it twisted set of the characters, but especially, Virginia and Tourmaline, who were troubled and resilient, but maintained a sense of sisterhood. (A name I absolutely hate, BTW. Tourmaline. It sounds like a sort of candy bar.)
I already shelved Sarah Nicole Lemon's next book. Because obviously, I'm obsessed with her writing as a whole. I've discovered I'm not a fan of this storyline in itself. Running from a problem that can easily be resolved, avoiding police for absolutely zero reason, ala Rebel Bully Geek Pariah. Just turn yourselves in and finish the book with a bit of dignity.
In the meantime, here's a few of my favorite quotes from the galley, if you needed to be hypnotized by Sarah's writing, just as I was.
Tourmaline's gaze flickered over him – taking in the polished boots, crisp jeans, and black T-shirt wrinkling across his chest as he smoothed down the plastic wrap. His black hair was buzzed close. Dark taupe skin – pulled tight over thick muscle like a matte finish on a bike. A well-trimmed, ducktail-shaped beard. No hint of boy left in the tall, strong-looking body. How old was he? She felt like she needed to know just to orient herself to where she was in life, as if his age were a missing coordinate. "You're not really supposed to talk to me." Or touch me, but she didn't say it. It had been a meaningless, thoughtless touch, she knew – but a conscript couldn't afford to be any of those things.
(…)

"For what?"

What did he mean, For what? Hadn't he been listening?

The conscript crossed his arms and leaned against the counter, looking wholly unapologetic.

"Do you like hanging out with your dad's friends?" He asked it a little mockingly. A little teasingly.
Flirting?