Whitney Gardner - You're Welcome, Universe
Expected publication
: March 7, 2017 Knopf Books for Young Readers
Genres
: Realistic Fiction, Young Adult
Pages
: 304
Find on:
Amazon
,
Book Depository
,
Goodreads
Rating
: 4/5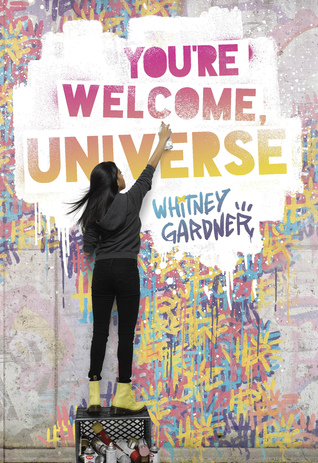 A vibrant, edgy, fresh new YA voice for fans of More Happy Than Not and Simon vs. the Homo Sapiens Agenda, packed with interior graffiti.

When Julia finds a slur about her best friend scrawled across the back of the Kingston School for the Deaf, she covers it up with a beautiful (albeit illegal) graffiti mural.

Her supposed best friend snitches, the principal expels her, and her two mothers set Julia up with a one-way ticket to a "mainstream" school in the suburbs, where she's treated like an outcast as the only deaf student. The last thing she has left is her art, and not even Banksy himself could convince her to give that up.

Out in the 'burbs, Julia paints anywhere she can, eager to claim some turf of her own. But Julia soon learns that she might not be the only vandal in town. Someone is adding to her tags, making them better, showing off—and showing Julia up in the process. She expected her art might get painted over by cops. But she never imagined getting dragged into a full-blown graffiti war.

Told with wit and grit by debut author Whitney Gardner, who also provides gorgeous interior illustrations of Julia's graffiti tags, You're Welcome, Universe introduces audiences to a one-of-a-kind protagonist who is unabashedly herself no matter what life throws in her way.
~
If you haven't already preordered this, here's my very loud, very raucous, very colorful PSA to do just that. You'll thank me later.
THE LURVES 💖:
- Julia is hearing-impaired (I hope that's the correct terminology) and one hell of a graffiti artist who attends art school in Queens, handles her ish like a boss, and loves her friends, despite their occasional shittiness, to the utmost degree.
- I fiercely detest MCs who cry over everything–even though, if I were a YA
sidecharacter
heroine, I'd probably be one of them–and Julia goes through a lot in this novel. I mean, a lot. Truly, she's a brilliant one.
[ Banksy makes a cameo!!! (hide spoil
- YP has an awesome pie-baking dad.
- Julia's moms–I don't know about you, but I adored them endlessly, just sayin'–and they're hearing-impaired as well, AND are Indian and Irish.
- They have bad-day pizza days, and now, I'm tempted to convince my family to make this an actual tradition.
- As this is a graphic novel, a first for me, we're graced with multiple illustrations and lemme tell ya, they are exquisite. I need to expand my vocab, obviously, but truly her art is like nothing I've ever seen before. Everything is given the slightest, prettiest detail, and this is very much street graffiti fabulousness in bookish form, which I adooore.
- Appreciation of thy fries.
- Kyle Fucking Stokes (For those who've read the book and may hate him, YEAH I KNOW), and the fact he's addressed as just that.
- Julia works at a McDonalds and is in charge of frying them fries.
- Though I'm not an artiste by any means, I've taken art classes and feared bleeding out from that little metal devil, and being sliced by an X-ACTO knife hurts like a witch with a capital B, believe me you. #BewareThePotentialArtHazard
- This is a YA primarily about friendship and I expect a lot of people to relate to this, because I certainly did, no matter their age.
THE IFFY BITS 👎:
- There is *slight* slutshaming
- Julia starts a graffiti war with someone, who is unknown, at first. And they pretty much graffiti whatever they want, wherever they want, and I'm not trying to hate on obviously gorgeous street art, but it's very reminiscent of Step Up Revolution and unrealistic as hell. Aren't certain streetcorners marked with security cameras? Um, hello.
- How Player 2 of the graffiti war was revealed kinda annoyed me. I mean, I'm glad to see who it was, overall, but it's written in the way the revealer is like, "How did you NOT know?" which had me slightly pissy.
Well, hey, I adored this extremely and this is my first graphic novel, actually. I've read a bit of manga, previously, but I'm not sure if that counts. Whitney Gardner's art and words are absolutely exquisite, ESPECIALLY for a debut. And she's publishing two books in '18, so keep an eye open for future awesomeness from her. < 3