Expected publication
: May 2, 2017 by Simon & Schuster Books for Young Readers
Genres
: Contemporary, Realistic Fiction, Young Adult
Pages
: 272
Find on
:
Amazon
,
Book Depository
,
Goodreads
Rating
: 2/5
Ava's plan for surviving senior year at her new school is simple: fly under the radar until graduation. No boys. No attachments. No drama. But all that goes out the window when she gets drafted into the Prom Bowl—a long-standing tradition where senior girls compete in challenges and are auctioned off as prom dates to the highest bidder.

Ava joins forces with star quarterback Mark Palmer to try and get herself out of the competition, but their best laid schemes lead to self-sabotage more than anything else. And to make matters worse, they both begin to realize that the Prom Bowl isn't all fun and games. When one event spirals dangerously out of control, Ava and Mark must decide whether shutting down the Prom Bowl once and for all is worth the price of sacrificing their futures.
~
Ava and Sean are new to town, so when their father is made football coach of the renowned Patterson High team, the longstanding tradition of Prom Bowl is apart of their tradition and when Ava is made Wild Card, more-so, out of jest, Mark Palmer, the golden boy extraordinaire, insists on bidding on her honor to save her from a life of flatirons and fluffy dresses.

THE LURVES (Sadly, there are not many) 😭:
-The concept of a Prom Bowl. There could've been so much more done with that.
-A+++ cover and title.
-The slushied scene and how Ava recovered from it. (Very reminiscent of Glee, BTW.)
-I'm 90% sure, Ava is bisexual/bi-curious.
-Ava and Sean's Daddio. I await the day the parent of an MC will be more protective over their darling cub and not IMMEDIATELY okay with the relationship at-hand,
[ I await the day the parent of an MC will be more protective over their darling cub and not IMMEDIATELY okay with the relationship, (hide spoiler)]
but yeah. Justme.
-I actually liked Ava, but she's another one of those MCs who I know 0% about. Do you like Quentin Tarantino? What are you favorite movies by him, then? What's that book you're carrying? What's your favorite color? Give us SOMETHING, dear.
THE IFFY BITS 😠:
-Mark. Palmer. What a turnoff of a human-being. He sabotaged Ava's every challenge, just so he could take her to prom, and when she started gaining confidence, he shot it down. Also, he referred to her as his girlfriend, despite the fact they kissed about once.
-Not the only novel I've read to have done this (i.e. Alex Approximately, ANNA/LOLA) but childhood friendships being outlandishly ruined over when an MC falls into lust over someone temporary and obviously uninterested. In this case, Ava is Not Like Other Girls.
-Pretty sure Sean had an unidentified issue, like wanting to be a rebel or finding himself involved with the wrong crowd, but that aspect is never fully touched upon.
-Besides Mark, footballers are displeasing to the eye in the regards of personality and very, verrrry misogynistic.
I find Cody and Mitch Castellano standing at the bank of locker farthest from the door, the ones reserved for the seniors and tossing out names- "Jenny Wright!" "Felicia!" "Fat Cassidy from choir!" It takes me a minute to realize what these girls have in common, and when I get it, I'm doubly pissed.
-Unpopular opinion: I'm CONVINCED Cody had some sort of sick crush on Ava.
-The football aspect of the book was...good, but it could've been handled better. I could tell the author did her research, included plenty of well-detailed explanations, but they're never seen going to practice or dealing with the dramatics of a live game. It's more like, keg parties and drunk slob kebobs and locker-room arguments.
-Ava is a Grade-A, Has-Nacho-Cheese-On-Her-Chin-But-Is-Still-Gorgeous, Looks-Good-In-A-Frumpy-Dress, The Merriest of All Mary Sues.
-The ending was confusing like no other. Ava wanted to end the book as a singular, but Mark's thirst couldn't be stifled with the promise of a Notre Dame scholarship.

Disappointingly, this book did VERY little for me, and the idea of a bookish bookworm falling for the leading footballer is becoming overused. Think: High School Musical without the choreography, or the Cinderella Story, feat. Hilary Duff and Chad Michael Murray, and you'll have a classic tale of Sunday blandness.

Sarah Raughley - Fate of Flames (Effigies #1)
Published: November 22, 2016 by Simon Pulse
Genres
: Fantasy, Young Adult
Pages
: 368
Find on
:
Amazon
,
Book Depository
,
Goodreads
Rating
: 2/5
Years ago, everything changed. Phantoms, massive beasts of nightmare, began terrorizing the world. At the same time four girls, the Effigies, appeared, each with the unique power to control a classical element. Since then, they have protected the world from the Phantoms. At the death of one Effigy, another is chosen, pulled from her normal life into the never-ending battle.

When Maia unexpectedly becomes the next Fire Effigy, she resists her new calling. A quiet girl with few friends and almost no family, she was much happier to admire the Effigies from afar. Never did she imagine having to master her ability to control fire, to protect innocent citizens from the Phantoms, or to try bringing together the other three Effigies.

But with the arrival of the mysterious Saul—a man who seems to be able to control the Phantoms using the same cosmic power previously only granted to four girls at a time—Maia and the other Effigies must learn to work together in a world where their celebrity is more important than their heroism.

But the secrets Saul has, and the power he possesses, might be more than even they can handle…
~
I featured this on my blog in an old sesh of Top Tuesday. It'd been pitched as "Pacific Rim meets the Avengers with a Sailor Moon cast." COME ON. How cool, right?!
Sailor Moon
Maia Finley is an average schoolgirl when her New York City school has been ransacked by phantoms and ghostly beings alike. She's forced to "calmly evacuate" with her class, and although she knows of her Effigy heritage - aka: a Sailor Scout/Senshi of the current day - she obviously has no clue of how to save the world.
Fortunately for her,
Sailor V
Belle Rousseau, steps in. She's gorgeous and empowering and the Effigy of Ice. Belle is also a supermodel and Maia practically leads her online fanclub, but Belle wants nothing to do with her. Or so, it seems.
More phantom attacks occur. Maia and "The Sect," who are Maia's essential's bodyguards because she seriously doesn't do shit for 98% of the novel, cross the globe, ala Argentina and Paris. They encounter
Sailor Mars
Chae Rin and
Sailor Mercury
Lake, whom worked as circus performers and pop singers respectively.
If you're looking for a difference between Sailor Moon and this book, there really isn't one. Just kidding.
Fate of Flames
's Maia and Serena aren't flatout copies. There's definitely more diversity. Lake is English - obnoxiously so, no offense to the English, but there are plenty of "bloody hells" and other exaggerations, and it was enough to send my eyeballs into the back of my skull - Chae Rin is Korean-Canadian, Belle is French, etc.
AND the Doll Soldiers forum. The previous title of Fate of Flames
was
Doll Soldiers, so I'm glad Raughley managed to incorporate that in, still. The Effigies' went into this public forum, saying, "Hi, I'm Maia! I'm the next successor of Natasha, the newest Effigy! Nice to meet you!" And trolls would just bash them. Like, WHY would you do that? That's like Wonder Woman exposing her identity to the public. It defeats the whole purpose of the story.
This is one of those books where the side-characters overwhelm the novel, but in a greater way. Maia couldn't be further from interesting. When drama happened, she ducked behind the Sect. At least when Sailor Moon had her ass kicked in 90% of the fights, she
tried.
If I liked any of the girls, it would probably be Chae Rin. She was so badass and she knew how to fight and she cared for her family,
and
she didn't take anyone's bullshit. Lake was stuttery and too much of an English caricature. Although, I did like Belle, at first, her lovely character was butchered before the story's finale.
Also, this book would've been greater as a standalone, but that's just me. Indefinite pass.
Stephanie Garber - Caraval
Published
: January 31, 2017 by Flatiron Books
Genres
: Fantasy, Romance, Young Adult
Pages
: 407
Find on
:
Amazon
,
Book Depository
,
Goodreads
Rating
: 4.5/5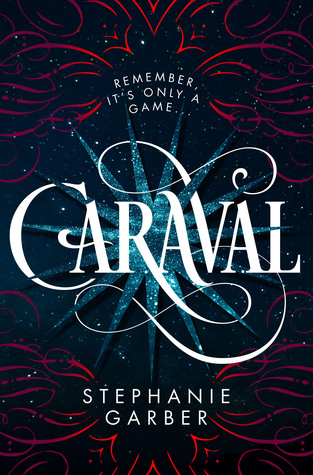 Remember, it's only a game…

Scarlett Dragna has never left the tiny island where she and her sister, Tella, live with their powerful, and cruel, father. Now Scarlett's father has arranged a marriage for her, and Scarlett thinks her dreams of seeing Caraval—the faraway, once-a-year performance where the audience participates in the show—are over.

But this year, Scarlett's long-dreamt-of invitation finally arrives. With the help of a mysterious sailor, Tella whisks Scarlett away to the show. Only, as soon as they arrive, Tella is kidnapped by Caraval's mastermind organizer, Legend. It turns out that this season's Caraval revolves around Tella, and whoever finds her first is the winner.

Scarlett has been told that everything that happens during Caraval is only an elaborate performance. Nevertheless she becomes enmeshed in a game of love, heartbreak, and magic. And whether Caraval is real or not, Scarlett must find Tella before the five nights of the game are over or a dangerous domino effect of consequences will be set off, and her beloved sister will disappear forever.

Welcome, welcome to Caraval…beware of getting swept too far away.
In one sentence, Caraval is, undoubtedly, worth the hype.

Scarlett, our MC, who has been writing extensively to the Caraval Legend Master in hopes he'll one day, reply with an invitation. So when he does, at learning of her upcoming marriage, he offers an invitation to she and a guest. Unfortunately, Scarlett is engaged to be married, and her sister, Tella, wants to escape their abusive father with their super cute, token sailor boy, Julian, in tow. But when Scarlett finds herself unintentionally caught in Tella's escape route, but when Tella vanishes upon reaching their new destination, Scarlett and Julian are left to search for her and enter Caraval without her.
THE LURVES 💖:
-TELLA. (I actually hated her, up to the ending, and I sincerely hope the next book leads from her POV. She's such a fucking boss.)
-Scarlett's true fucking love for her sister.
-Stephanie Garber's writing && how she describes colors so artfully. She mentions something through an analogy like, chocolate cake drenched in red wine?? Oh dear, must-have.
-Unpopular opinion: I secretly liked Scarlett and Tella's father. He was...interesting. I also think he loved his daughters in his own unlikely, unhealthy way, which was even more interesting to read.
-Many, many of the mystical elements in this story.
-I AWAITED That Kiss like nobody's business.
-I read this book in one sitting and it was glorious.

THE IFFY BITS 👎:
-The world-building was quite shitty, actually, and handled a lot like the Crown's Game. I'm left with tons of questions. I'm not sure what most of the other participants were even doing there? I assume, everyone's goal was to Find Tella. Honestly, the other participants weren't even needed because Julian and Scarlett did everything.
-How DID Tella vanish, exactly? They were rowing to the island and she jumped off the boat, then swam through an entire ocean? That's what I'm assuming. Why wouldn't Julian stop her from inhibiting a strange island by herself until they arrived? YA logic, I swear.
-The aspect of death confused me in this book. Someone dies, but is allowed to walk back into scene, a few chapters later? I hope this is seriously tackled better in the next book.
-I'm legitimately worried Julian/Scarlett are going to be in that eternal honeymooner phase in Book 2.
-The fact we have to wait for Book 2.

Okay, but I OBVIOUSLY enjoyed this. I would only touch Book 2 if it takes the POV of Tella, even though I'll probably read it, anyway, because Stephanie's writing is so unbelievably gorgeous. AND WE HAVE TO WAIT UNTIL 2018 for the second. Woe is I.