Michele Campbell - It's Always The Husband
Published
: May 16, 2017 by St. Martin's Press
Genres
: Adult, Thriller, Romance
Pages
: 320
Find on
:
Amazon
,
Book Depository
,
Goodreads
Source
: Publisher
Rating
: 1.5/5 👎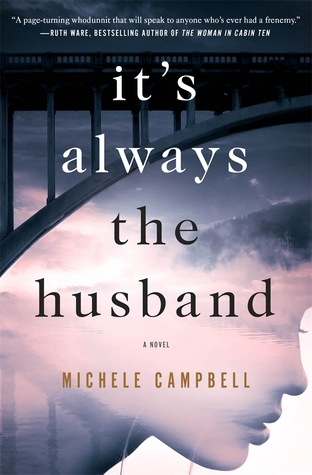 Kate, Aubrey, and Jenny. They first met as college roommates and soon became inseparable, even though they are as different as three women can be. Twenty years later, one of them is standing at the edge of a bridge . . and someone else is urging her to jump.

How did things come to this?

As the novel cuts back and forth between their college years and their adult years, you see the exact reasons why these women love and hate each other—but can feelings that strong lead to murder? Or will everyone assume, as is often the case, that it's always the husband?
~
College life is a breeze in fiction, Kate, Aubrey, Jenny all attend the renowned Carlisle College in Belle River, New Hampshire, and quickly, they become BFFs. As in, sharing boys, sharing textbooks, attending frat parties, and struggling to resolve a murder in their later years. Kate is super rich and the rotten egg from a golden goose, born and bred from the Upper East Side, Aubrey cries over everything because she's poor, Jenny is the in-between friend, often forced to look out for them.
Maybe I'm bitter (aka: still recovering from a recent semester), but this is yet another book that shows college as a glamorous party haven. Although, the girls are seen grabbing textbooks and sighing over library books, the full experience of college is never actually shown??? I mean,
come on.
Where are the consistent emails from your professor? Group chats? An overrun coffee machine? (The girls were usually seen skipping class or smoking in their dorm rooms.)
"Aubrey's thinking about taking Renaissance Painting and a bunch of other floofy stuff," Jenny said, smiling.

"Floofy?" Kate said, and laughed. "You're too much."

"You're saying those courses aren't practical," Aubrey said. "I get it, but why come to Carlisle if not to study things that inspire me?"

"Um, to get a job after?" Jenny said.
The book includes an abrupt flash-forward, twenty years into the future, and it's pretty terrifying. For these girls, at least. They deserved a Breaking Dawn: Part 2 plot twist, at least. They're all unhappily married and barely friends. I truly didn't like how they interacted in general. I was originally going to say Kate was the unsung hero of this novel, but I'm going to stick with Jenny. Her life was just so continuously unfortunate. There wasn't one fully-focused POV, I believe this was a wild, undetermined case of third-POV, but she was always The Underappreciated Friend. One minute, they were trying to coddle Kate and the next, they were double-teaming her with their girl hatred. Dear, please.
The only real friends delved from this story were Aubrey and Jenny. They held each other's hair as they puked, strolled through Central Park, dried each other's tears, although Jenny was mostly seen doing that for Aubrey, so like I said, give Jenny your praise.
The twenty-year flashforward truly didn't belong here. It was so cringey and downright sad. If this was simply a college-based novel on friendship and girlhood and first-time romance, it would've been great. Aubrey and Jenny had a great friendship, but when it carried into the future, it deteriorated. I can only describe this read as a bore. Definitely a pass.