Jillian Blake - Antisocial
Published
: May 16, 2017 by Delacorte Press
Genres
: Contemporary, Thriller, Romance, Young ADult
Pages
: 256
Source
: NetGalley
Find on
:
Amazon
,
Book Depository
,
Goodreads
Rating
: 2/5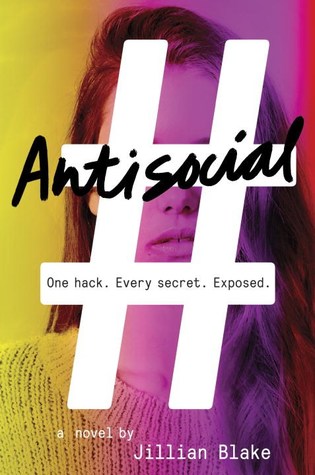 Alexandria Prep is about to be exposed.

Senior spring was supposed to mean sleeping through class and partying with friends. But for Anna Soler, it's going to be a lonely road. She's just been dumped by her perfect basketball star boyfriend—with no explanation. Anna's closest friends, the real ones she abandoned while dating him, are ignoring her. The endearing boy she's always had a complicated friendship with is almost too sympathetic.

But suddenly Anna isn't the only one whose life has been upended. Someone is determined to knock the kings and queens of the school off their thrones: one by one, their phones get hacked and their personal messages and photos are leaked. At first it's funny—people love watching the dirty private lives of those they envy become all too public.

Then the hacks escalate. Dark secrets are exposed, and lives are shattered. Chaos erupts at school. As Anna tries to save those she cares about most and to protect her own secrets, she begins to understand the reality of our always-connected lives:

Sometimes we share too much.
~
Anna Soler and her superstar ex-boyfriend, Palmer, have recently split. She's looking forward to senior year, after all, and all that it brings: skipping classes, a potential acceptance letter to RISD, group chats, more art, and a prospective romance with Jethro.

So when Alexandria Prep is struck by a serious scandal - a gossip scandal, at that! - Anna and her friends aren't exactly sure of how to tackle the fray when the fellow students' secrets are exposed, one by one, and soon, all at once.

This book is very very very similar to One Of Us Is Lying, especially in regards to the technology aspect. Although One Of Us Is Lying isn't as tech-savvy, taking more off of tumblr to ruin lives, Antisocial delves into the recent, modern-day usage of teen speak, so there's a lot of group chats, DMing, and phone calls are so 1999, apparently.

Okay, but really, I just didn't like Anna. Did. Not. Yeah, I related to her. Given, she has own issues with anxiety and she's a Latina, but she's so UNLIKABLE. She's a shitastic friend, who is unbelievably insensitive, immature, and the most interesting thing about her was that she was an art major, but it couldn't even dilute her shitty personality.

Really annoying me with all her ?s
Shitty taste in music, don't want to go with her to some crappy show
Scarfed down two ice cream sandwiches, then bitched about weight 1 hr
Always needs to be peacemaker, she'd hate if rad and I got along again, because then, what role would she play?
Nikki's mom is a disaster, total alkie. Boxed chardonnay. Her stepdad is some wall st. creep.
Why do I have to go see the play? She's only on stage crew.
Least flattering profile pic, what do I say?

(...)

Honestly I think rad's just jealous of us
She is a total c u next tuesday sometimes
Don't care if we never talk again
Sleeps with so many cuz no self-respect
Seriously pissing me off
We're not just the same kind of people
Been to India, thinks she's miss Bollywood
Doesn't even speak Hindi
So bitchy. Fuck her.
More notches on her bed than likes.
You don't think Rad's hot, do you?
Making our friends choose. Such a bitch.
???? Because that's the perfect way to treat your friends, Anna.

I definitely sympathized more with Palmer. He was dealing with so much, and his issue wasn't given too much detail or focus. [ He literally DIES, you guys. (hide spoiler)]He was a background character, who was frequently looked down upon. And when something dire finally happened, people felt terrible. If not for Anna's horrible lead, I would've definitely loved this story in all its entirety, because it's truly a unique, thought-provoking concept, but I couldn't get over the horridness in Anna's character, so read at your own risk.[ the casual villainy from Jethro. (hide spoiler)]