F.C. Yee - The Epic Crush of Genie Lo
Published
: August 8, 2017 by Amulet Books
Genres
: Fantasy, Retellings, Romance, Young Adult
Pages
: 336
Source
: Publisher
Find on
:
Amazon
,
Book Depository
,
Goodreads
Rating
: DNF 👎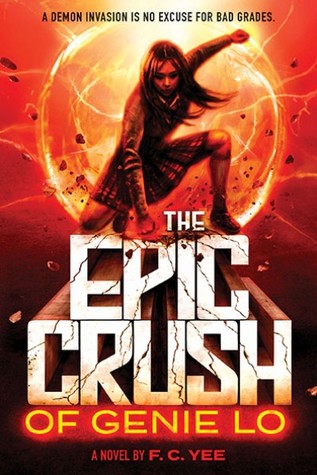 The struggle to get into a top-tier college consumes sixteen-year-old Genie Lo's every waking thought. But when her sleepy Bay Area town comes under siege from hell-spawn straight out of Chinese folklore, her priorities are suddenly and forcefully rearranged.

Her only guide to the demonic chaos breaking out around her is Quentin Sun, a beguiling, maddening new transfer student from overseas. Quentin assures Genie she is strong enough to fight these monsters, for she unknowingly harbors an inner power that can level the very gates of Heaven.

Genie will have to dig deep within herself to summon the otherworldly strength that Quentin keeps talking about. But as she does, she finds the secret of her true nature is entwined with his, in a way she could never have imagined…
I actually hadn't heard of this book when it arrived in my mailbox. Literally, the amount of love it has continuously received has made my heart grow.
After witnessing a literal mugging, Genie Lo steps in to help. Upon seeing a stranger with a gleaming smile, and the group fleeing in response to her reaction, she decides to leave the situation as is. When she arrives at school, the same boy, who is strangely charming in both personality and appearance, smelling of "wine and peaches," (PS: one of my favorite descriptions of all-time, probably) decides to acquaintance himself with Genie, much to her initial dismay.
This novel was written like one of the messiest animes, which isn't to say I'm not a fan of those. The messiest animes are usually the funniest, well-developed, realest stories. Take note of Ouran High School Host Club, Maid-Sama, and Fruits Basket, people. One second, Genie Lo was shouting. A moment later, she was calm. I've read manga and watched years' worth of anime. Usually, those are the types of heroines I automatically gravitate toward, but this book was heavy on the description. Not so much, the personality.
The writing itself was mediocre, and well, just ordinary, but considering it's a debut, I decided to leave that be. I'm fond of emotion-heavy stories, but Genie's story contained more adjectives than anything. Though I did like her mother, she was similar. Toneless, practically. Honestly, I would've preferred to hear what Genie was thinking, we learn more about her. I love how the college aspect is slowly becoming included in YAs, nowadays, which I could've used when I was a high school senior, but Quentin was such an immature killjoy, he ultimately ruined the book for me.
Plus, the relationship between she and Quentin was downright creepy. I'm not sure if it was going to eventually build into romance or remain a platonic partnership, but following someone home and claiming to predicting their dreams? Stay away. Far, far away.
F.C. Yee's introduction note truly struck a chord with me, and I've seen nothing but rave reviews about Genie's story, so far, and as it contains Chinese folklore, is a retelling of the Monkey King, I hope to return to it someday.