M.G. Reyes - Emancipated (Emancipated #1)
Published:
May 26, 2015 by Katherine Tegen Books
Pages:
400
Genres:
Contemporary, Thriller, Young Adult
Find on:
Amazon
,
Goodreads
,
Book Depository
Rating
: 1/5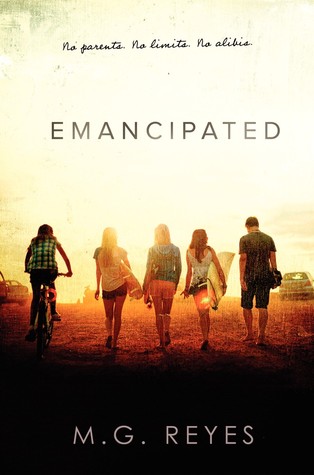 The good girl, the bad boy, the diva, the hustler, the rock star, and the nerd. Six teens legally liberated from parental control for six different reasons, all with one thing in common: something to hide.

Now they're sharing a house in Venice Beach, acting like a family, and living their lies. No parents. No limits. No alibis. One witnessed a crime, another might be a murderer—and one's been spying on them all.

As they cling to a fantasy of freedom and slowly let down their guards, the past creeps up on them. And when one of them gets arrested, everyone's carefully constructed facade comes crumbling down.

In this steamy, drama-filled series, relationships are tested and secrets revealed as lies threaten to destroy their perfect setup.
~
I already knew I was going to have a problem with this book because I specifically ordered a hardcover and an ARC arrived, instead.
Six emancipated teens share a house in Venice Beach. They are named Paolo, Maya, Candace, Grace, Lucy, and John-Michael. Why are they emancipated, you ask? No significant reason. Candace wants to further her acting career without her parents interfering, her stepsister, Grace, decides to follow for the hell of it, Paolo's parents want him out of the house, and John-Michael doesn't have a family. Emancipation is only a phrase in this YA, folks. How else could these frugal teens afford a beach house? Candace's mother frequently visits, Maya and Lucy's families still keep track of them, and they are continuously financially supported by their families.
Paolo is looking for love. He's spent the last few years being a fuckboy womanizing and is finally wanting to find someone serious. He finds that in Lucy, but Lucy wants nothing to do with him. She likes tattooed, scruffy men and Paolo wears J. Crew. She spends 99% of the novel, rejecting his creep advances while Grace silently crushes on him. Meanwhile, John-Michael lives the full essence of a YOLO life.
And besides the fact, Candace is an almost-actress, Lucy is in the midst of working on an app, and Grace and Maya did whatever else, I could barely differentiate them from each other. Also, we occasionally received semi-ominous appearances from Ariana and Charlie, who were often calling one another or the cast members to trade gossip or other useless info.
If you throw the long-forgotten reality shows, Jersey Shore and The Hills, and last year's
After Hours
into a giant stew pot, you would have this book. The first few minutes are mildly flavorful until the oh-so-foreseeable plot twist.
I'll probably skip the next book. Unfortunately, nothing special here.
~