~
Acclaimed film producer/director Adam Shankman and coauthor Laura Sullivan pen a sparkling, witty, romantic mystery inspired by Nick and Nora Charles and Hollywood glamour.
Not too long ago, Lucille O'Malley was living in a tenement in New York. Now she's Lulu Kelly, Hollywood's newest It Girl. She may be a star, but she worries that her past will catch up with her. Back in New York she witnessed a Mafia murder, and this glamorous new life in Tinseltown is payment for her silence.
Dashing Freddie van der Waals, the only son of a New York tycoon, was a playboy with the world at his feet. But when he discovered how his corrupt father really made the family fortune, Freddie abandoned his billions and became a vagabond. He travels the country in search of redemption and a new identity, but his father will stop at nothing to bring him home.
When fate brings Lulu and Freddie together, sparks fly—and gunshots follow. Suddenly Lulu finds herself framed for attempted murder. Together, she and Freddie set out to clear her name. But can they escape their pasts and finally find the Hollywood ending they long for?
I may've said this once before, but I love everything and anything vintage. Fashion, film, old fables. A simpler time, really.
One of my favorite favorite favorite movies is Gone With The Wind. It debuted in 1939. I have it on VHS and DVD. I remember when I was little and had a terrible cold, and my mom sat with me late in the morning and we watched the whole movie. Seriously, it's hours long and during one of the pivotal, sadder scenes near the ending, I literally screamed. Always been the drama queen.
Lucille O'Malley is no one special. She lives in a tenement in New York, her father is bedridden, and she helps her mother with her laundry business. But after witnessing a fatal incident, a man buys her silence in exchange for a career as an actress and chance at being Hollywood's latest It Girl. Thus, she takes on the name Lulu Kelly to avoid future qualm. Or so she thinks.
Meanwhile, Freddie van der Waals is newly engaged. But after learning how corrupt his father is, he disinherits his billions and goes on the run. When he and Lulu cross paths, a whole new set of problems arise.
~
DEM DRESSES THO
The curtain dress is an honorable mention, of course. Madame Scarlett was desperate, so she ought to be allowed a fashion faux pas. '30s style is so fun. Polka dots. Long, swishy skirts. Wild patterns.
~
CIGARETTES STICKS OOH
Cigarette holders are an honorable mention in Girl About Town. There's an especially snazzy pearl one featured, but I wouldn't suggest mimicking anything above. Such style, no??
~
PURDY HAIR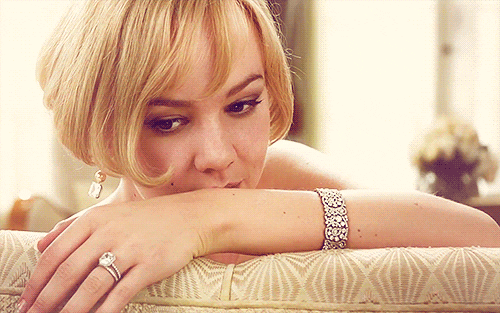 Daisy Buchanan's hair is actual #goals. So is Lady Daisy, actually. Quite frankly, I'm obsessed with this GIF because of those diamonds. Also, the never unlucky Daisy is fortunate enough to spend a few nights with the always delightful, Jack Dawson/Gatsby/Frank Wheeler.
~
THE OL HAT TRICK
Another Audrey GIF, I know. But really, you can never go wrong. Who can live without Audrey, anyway? Style always on point.
DIAMONDSSSSS

You said it, Marilyn. I mean, Lorelei. This dance sequence must've been so fun to be apart of, BTW. (#2 BTW: Literally obsessed with her eyebrow pop in this GIF.)
a Rafflecopter giveaway