Erin L. Schneider

- Summer of Sloane
Published
: May 3, 2016 by Disney-Hyperion
Genres
: Contemporary, Realistic Fiction, Young Adult
Pages
: 291
Find on
:
Amazon
,
Book Depository
,
Goodreads
Rating
: 3.5/5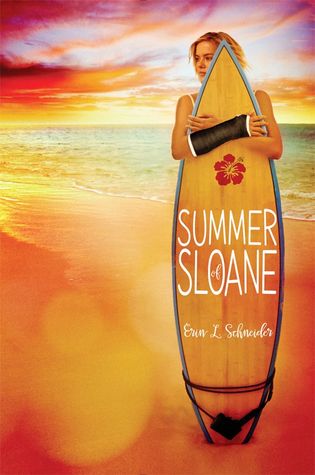 Warm Hawaiian sun. Lazy beach days. Flirty texts with her boyfriend back in Seattle.

These are the things seventeen-year-old Sloane McIntyre pictured when she imagined the summer she'd be spending at her mom's home in Hawaii with her twin brother, Penn. Instead, after learning an unthinkable secret about her boyfriend, Tyler, and best friend, Mick, all she has is a fractured hand and a completely shattered heart.

Once she arrives in Honolulu, though, Sloane hopes that Hawaii might just be the escape she needs. With beach bonfires, old friends, exotic food, and the wonders of a waterproof cast, there's no reason Sloane shouldn't enjoy her summer. And when she meets Finn McAllister, the handsome son of a hotel magnate who doesn't always play by the rules, she knows he's the perfect distraction from everything that's so wrong back home.

But it turns out a measly ocean isn't nearly enough to stop all the emails, texts, and voicemails from her ex-boyfriend and ex-best friend, desperate to explain away their betrayal. And as her casual connection with Finn grows deeper, Sloane's carefree summer might not be as easy to find as she'd hoped. Weighing years of history with Mick and Tyler against their deception, and the delicate possibility of new love, Sloane must decide when to forgive, and when to live for herself.
~
Life lesson: Karma will come for you.

The story starts with Sloane's best friend, Mick, crying and confessing an ugly tryst to her. Mick has slept with Sloane's boyfriend, Tyler, and is pregnant with his baby.[ Mick has slept with Sloane's boyfriend, Tyler, and is pregnant with his baby. (hide spoiler)] Completely thrown by the revelation, Sloane has an asthma attack, which she is prone to, falls to the floor, and tries to figure herself out. After she does so, she runs to find Tyler, who fails to apologize, clocks him incorrectly, and breaks her hand and his nose.

I could never imagine. I mean, could you? My best friend and I were so close in high school. So close. We met at her locker after lunch, after school, and cleaned out her locker ritually every year. And once we got home, we called each other and talked the whole night. Ironically, she accused me of liking her boyfriend. Either way, asdfghjkl. This would traumatize me if my best friend did this to me, instead.

Anyway. Sloane didn't gently punch Tyler. It wasn't a "ouch Sloane you bruised my cheekbone" hit, she flatout broke his nose in several places. She was lucky his family didn't sue her. After she gets her broken wrist set in a cast, she and her twin brother, Penn, hightail it to Hawaii to avoid a lawsuit her relationship problems, where they'll spend the summer with their mother.

Hawaii seems great. The setting reminds me of Juniors, which was enjoyable. It sounds gorgeous. Parents are rare mentions. If so, they're assholes. Sloane and her brother are staying with their mother and stepfather. When they arrive, they practically fling free cars and alcohol at them. Need I remind you: teenagers??? I was seriously fond of Sloane's father, the only sane parent in the story, really.

I also liked Finn, at first. We lost touch later.

I'm a strict-believer in karma, so I'm sorry, but I didn't feel bad for Mick at all. Sloane shouldn't have either. She and Tyler should've left her alone, first of all. Mick was trying to text her little "friendship reminders" and Tyler with his serenading apologies. She is on vacation. Leave her alone. I would've blocked their numbers.

I feel like the ending was going to end romantical, somehow. I did like the open-ended aspect of it, but if anything, I'm hoping more for a short-story than an entire book. Disregard Finn and the nonexistent Hawaiian parentals, and you have yourself a darling read!